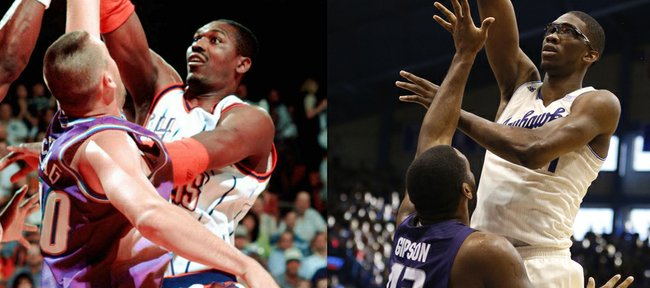 The day Joel Embiid was born, Hakeem Olajuwon was half a world away, in the midst of an MVP season, coming off a 41-point, 12-rebound double-double for the Houston Rockets.
It was March 16, 1994. Olajuwon, a 10th-year pro, was well on his way to leading Houston to its first of back-to-back NBA championships, and Embiid was a newborn.
Yet, 20 years later, their names are tied together almost every time analysts try to project Embiid's often-referenced ceiling in the league. A 7-footer, just like Olajuwon, the one-and-done center from Kansas University who has only played the game for three years has heard the comparisons to "The Dream," a hall of famer.
While many young pros try to distance themselves from labels such as "the next Michael Jordan" or "the next Magic Johnson," Embiid, Philadelphia's No. 3 overall pick in the draft, doesn't mind being branded as "the next Olajuwon." In fact, he welcomes it.
"Obviously, everybody should already know that's my idol, and I love the way he played the game," Embiid told Philadelphia media in a teleconference earlier this week.
Olajuwon retired in 2002, but Embiid's introduction to basketball back in Cameroon just a few years ago included a video of the Nigerian legend, given to the newbie by his coach. Young Embiid became infatuated with the legendary center, partly because he also came from Africa, but mainly because of the way Olajuwon moved with the ball in his hands.
"It's kind of like he's dancing," Embiid said. "And I like dancing — dancing and singing."
The 20-year-old Embiid, whom the 76ers hope develops into an All-NBA center like his hero, revealed, when he was young, he would just walk down the street moving his shoulders and dancing. No wonder he mimicked so easily the moves he watched Olajuwon make on that old tape.
During the past season, Kansas coach Bill Self witnessed Embiid's "Dream" impressions on the low block. The coach told reporters at the 2014 NBA Draft that Embiid has 10 post moves in situations where other guys can only make one. Once Embiid puts all of those skills on display in an actual game, Self added, he should be able to produce at the highest level.
"That's why people are so excited about him," Self said. "He's starting to scratch the surface."
Self told Embiid when he arrived at KU that he would be the No. 1 pick in the NBA Draft in two years. His low-post dance moves, 7-foot-5 wingspan, rim-protecting ability and graceful athleticism likely would have helped him beat Self's prediction a year ahead of schedule had Embiid not suffered a stress fracture in his right foot's navicular bone just days before the draft.
Despite Self's confidence in the young prodigy, Embiid said it wasn't until a KU game in late December that he really thought the next level could be in his near future. The moment of recognition he referenced was executing Olajuwon's "Dream shake" — an improvisational post move in which the legend utilized a series of ball fakes and pivots to get to the rim — against New Mexico.
"Oh, maybe I have a chance to play in the NBA," Embiid recalled thinking after his 18-point performance.
Though Embiid never topped that scoring output in his injury-shortened, 28-game season (Embiid also scored 18 at Texas Tech before hurting his back), that hasn't stopped the Olajuwon conversations. ESPN college basketball analyst Jay Bilas has stressed Embiid, at this stage of his basketball career, compares favorably with Olajuwon's freshman year at the University of Houston. In his first college season, The Dream averaged 8.3 points, 6.2 rebounds, 2.5 blocks and 1.4 turnovers while making 60.7 percent of his shots. In one year for the Jayhawks, Embiid averaged 11.2 points, 8.1 rebounds, 2.6 blocks and 2.4 turnovers while hitting 62.6 percent of his attempts.
Like Embiid, Self has no issue with the parallels being drawn between the centers, separated by a generation's worth of 7-footers.
"They're very fair. I said that all along and people thought I was nuts," Self said. "You watch him and watch his footwork and how effortlessly he moves, I think it's a very fair comparison."
If they haven't already, the KU coach thinks the Sixers and their fan base soon will realize how great Embiid could become in the league.
"They're gonna get a guy with personality, a guy that moves like a guard and can score in a plethora of ways," Self said. "He is a franchise-potential type player. It's very possible he very easily could've been the No. 1 pick, so if he's healthy, Philadelphia got a steal at (No.) 3."
Embiid promised he won't disappoint the 76ers and said he aspires to follow Olajuwon's path to the hall of fame. So bring on the comparisons.
"It makes me want to work harder," Embiid said, "and I'm gonna do everything to have a great career, stay healthy and just take care of myself and do some damage in the NBA."
Chasing down his own dream, the former KU center would like to win multiple championships and play for one franchise his whole career. Even Olajuwon (who suited up for Toronto in his 18th and final year) couldn't do that.
That's why Embiid said he has another NBA giant to emulate: San Antonio's Tim Duncan.