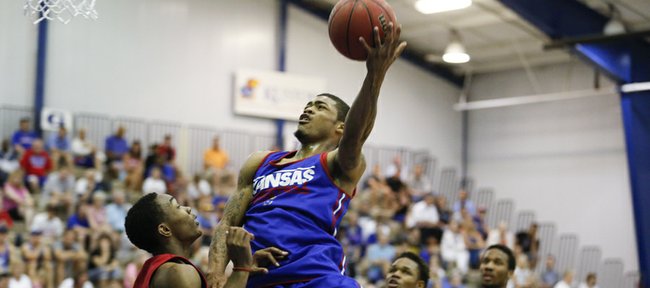 Every summer, watching a camp game is all that's necessary to trigger a debate as to whether this year's Kansas University basketball team will outdo last year's.
After all, so much can be learned from a camp game or two. For example, last summer, NBA general managers put great stock into the box score that showed Red defeated a Blue team that included Andrew Wiggins and Joel Embiid, 66-61. Wiggins, the No. 1 pick of last week's NBA draft, scored seven points, Embiid, the No. 3 pick, scored two.
For a better read on the basketball team's 2014-2015, consider the head coach's words.
"I think we actually have a chance to win a lot of games," Bill Self said of his 12th KU team. "I think we can be as good at one through four and as deep at one through four as we have been in a long time. We just need to find somebody who can be a low-post presence and protect the rim. You know, be a defensive presence."
Naadir Tharpe's departure should help more than hurt. For one thing, it turns Frank Mason from a follower into a leader. He'll let his natural in-your-face instincts take over, instead of watching the veteran for cues on how to act, practice and play.
Stronger and quicker than Tharpe, Mason is more equipped to make the opposing point guard uncomfortable.
Look for Kansas to use more lineups that have three guards on the floor at the same time with Wayne Selden spending as much or more time as the third ball-handler as he does the second one. Conner Frankamp and Devonté Graham won't only back up Mason, they'll spend plenty of time playing alongside him. Mix in Kelly Oubre and Brannen Greene getting time at small forward and it's easy to picture intense practice battles among four sophomores and two freshmen for playing time on the perimeter. And that doesn't even include mystery man Sviatoslav Mykhailiuk of the Ukraine, the youngest of the freshmen.
The depth inside isn't as outrageous, but more than most teams boast. Returning power forwards Perry Ellis and backup Jamari Traylor combined for 18.3 points, 10.8 rebounds and a .577 field-goal percentage in 44 minutes per game.
Strong, powerful Cliff Alexander plays with a high motor and physical style that will ideally complement Ellis' finesse game. But Alexander doesn't project as a shot-blocker, a la Cole Aldrich, Jeff Withey and Embiid.
"Cliff needs to come through," Self said. "Still though, at the end of the day he's a 6-8 guy, as opposed to a 6-11 guy we're kind of used to having."
Hunter Mickelson, a 6-10 junior transfer from Arkansas, is the most natural shot blocker on the roster. His 72 blocked shots as a sophomore came in 548 minutes, compared to Embiid's 72 blocks in 647 minutes last season. What remains to be seen is whether having Mickelson's shot-blocking presence in the paint will be worth shortchanging the team in other areas such as offensive skill and speed, compared to Alexander, Ellis and Traylor. Landen Lucas has a big body and isn't afraid to use it to lean on players, but doesn't have nearly the same quickness and speed of KU's main interior options.
"I'm excited," Self said. "We've got good players. We're more athletic. We're definitely more competitive."
An active Big 12 title run of 10 seasons teaches that it's always best not to consider the talent that has left for the professional ranks to project KU's fortunes, rather to look at the players coming back and entering the program. No way of doing that objectively without concluding Kansas again has what it takes to contend for the Big 12 title and draw another high seed in the NCAA Tournament.