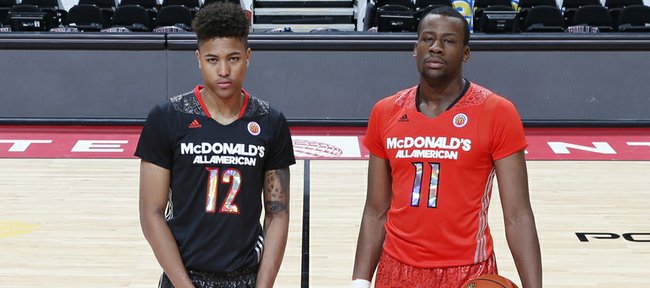 It happens every year at programs like Kansas University.
Players leave, either to the NBA Draft or graduation, highly touted newcomers slide in to replace them, and the fan base immediately begins to wonder if the new version will be as good or better than the departed veterans.
Last week, at the NBA Draft in Brooklyn, New York, KU coach Bill Self cautioned against such an exercise when it comes to searching for replacements for former Jayhawks Andrew Wiggins and Joel Embiid, the No. 1 and No. 3 picks in this year's draft.
Although Self put together a stellar incoming class that not only ranked highly against other hauls but also fit KU's needs perfectly, the two most touted players in the class, big man Cliff Alexander and wing Kelly Oubre, already are drawing comparisons to Embiid and Wiggins because they figure to pick up a solid chunk of the playing time available because of the duo's departure.
"You're talking about Cliff and Kelly because those are kind of the (same) positions," Self said. "But, with Sviatoslav (Mykhailiuk) and Devonté (Graham), I think we've got four really good players coming in, but they're good players. They're not exceptional prospects by NBA standards. If they work hard and things fall right, they could get to the point where they could play at the highest level, but, certainly, you can't anticipate them stepping in and doing what Jo did or what Andrew did as freshmen."
Despite having to live up to enormous hype that began long before he ever arrived in Lawrence, Wiggins delivered one of the best seasons by a KU freshman in the school's history. He led the Jayhawks in scoring, earned first-team All-Big 12 honors, was one of the top defenders in the conference and set several KU freshman records, all while drawing tons of attention from opposing coaches.
Embiid, who did not even start the first eight games of the season and missed 15 altogether, was so good during the games he played that he earned Big 12 defensive player of the year honors and was many analysts' choice for the draft's top pick before injuring his foot in the weeks leading up to the draft.
While Oubre, 6-foot-7, 200 pounds (Wiggins is 6-8, 200), possesses great athleticism and an attacking style like Wiggins, asking him to fill those shoes would be a bit unfair. Same goes for asking that of the 6-8, 240-pound Alexander, who is more of a power player than fleet of foot.
"Whenever you lose the No. 3 pick in the draft that could've gone No. 1, you just don't replace that," Self said of Embiid.
Adams taps UConn
Class of 2015 point guard Jalen Adams, the No. 26-ranked senior in the country according to Rivals.com, committed to UConn and head coach Kevin Ollie on Monday.
Kansas had cracked Adams' final three — Louisville was the other — but picked the Huskies largely because of Ollie, who, after winning the national title in April, has become one of the hottest names in coaching.
"It was because of the coaching staff and the style of play," Adams told ESPN.com. "Coach Ollie lets the guards play. It's a guards-based program."
Adams, 6-2, 160, hails from the same hometown as former UConn standout Shabazz Napier.
Ten Jayhawks at camp
KU players Perry Ellis, Wayne Selden Jr., Cliff Alexander, Conner Frankamp, Brannen Greene, Frank Mason, Jamari Traylor, Oubre, Graham, and Landen Lucas will be camp instructors at The Players Camp on July 19 in New Century. The camp will be run at The New Century Fieldhouse from 9 a.m. to 5 p.m.
Founded by Sean Harrington, who played for Self at Illinois and worked under him at KU, The Players Camps are a series of basketball clinics that employ college basketball players to teach fundamental basketball instructions to youth. Campers will watch the players demonstrate elite college drills, learn the drills from the players and compete 5-on-5 against the players.
More like this story on KUsports.com