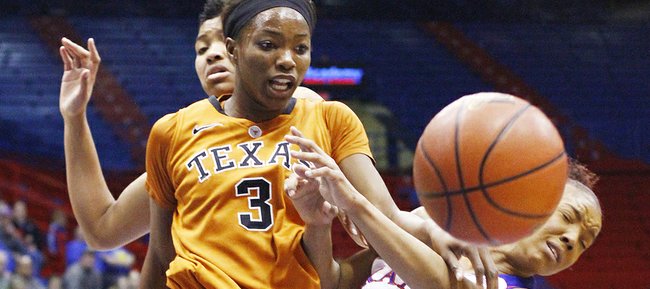 Document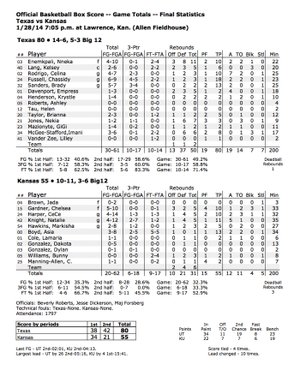 In the days leading up to Tuesday's 80-55 loss to Texas at Allen Fieldhouse, Kansas University women's basketball coach Bonnie Henrickson talked about consistency being the key for her ever-improving squad.
But other than a couple of stretches during the first half, the only way the Jayhawks were consistent against the Longhorns was in their inconsistency.
"That's what happens when you don't show up," a disappointed Henrickson said after the game. "To feel like they played harder than we did — and we were kind of a no-show there in the second half — that's a tough pill to swallow."
Henrickson was far from the only one frustrated and confused by the Jayhawks' latest effort. Asia Boyd (13 points) and Chelsea Gardner (10) both said suffering such a sound defeat brought into view everything the team needed to work on to get out of its win-one-lose-one stretch. Since dropping the first three games of Big 12 play, the Jayhawks (10-11 overall, 3-6 Big 12) have been up and down for six straight.
"I think we're disappointed in ourselves as a whole," Boyd said. "We just weren't responding well today, and, in the second half, we just came out flat."
Although neither team made more than 40 percent of its shots in the first half, the Jayhawks and Longhorns combined for 13 three-pointers, converting 12 of the game's first 16 three-point attempts. That outside onslaught led to a 38-34 halftime advantage for the Longhorns (14-6, 5-3), who then outscored Kansas 42-21 in the final 20 minutes to run away with the victory.
After shooting 40 percent in the first half, the Longhorns turned up the heat in the second half and shot 59 percent from the floor, mostly on layups and easy baskets inside. KU, meanwhile, saw its 35-percent shooting in the first half cool off to 29 percent in the second half.
Once things went south, the Jayhawks never recovered. And the Longhorns just kept attacking.
After Lamaria Cole's runner in the lane cut the UT lead to 49-40 with 14:14 to play, the Longhorns ripped off a backbreaking 17-3 run. Nneka Enemkpali scored an easy bucket on a lob pass in transition from Brady Sanders. Two plays later, Sanders stole a rebound from Markisha Hawkins and dropped in a reverse layup to put Texas up 20. And two plays after that, UT's Krystle Henderson drove coast-to-coast for an uncontested layup.
From that point on, the rest of the game was a mere formality.
"It's not who, it's not where, it's how," Henrickson said. "And our 'how' was terrible. Very disappointed that we couldn't muster something up."
Kansas freshman Keyla Morgan missed Tuesday's game after suffering her second concussion of the season during Sunday's practice.
Hawkins (5 points on 2-of-8 shooting) took her place in the starting lineup. The Jayhawks also lost Cole to injury with 8:19 to play, when she crashed head-first into the basket support after a Jayhawk miss. Henrickson did not know the severity of Cole's injury following the game. She also had no time table for Morgan's return.
Kansas will head out on the road for its next two games — 2 p.m. Saturday at Texas Tech and Feb. 5 at Oklahoma State — before returning to Allen Fieldhouse on Feb. 9 to face Oklahoma.
More like this story on KUsports.com