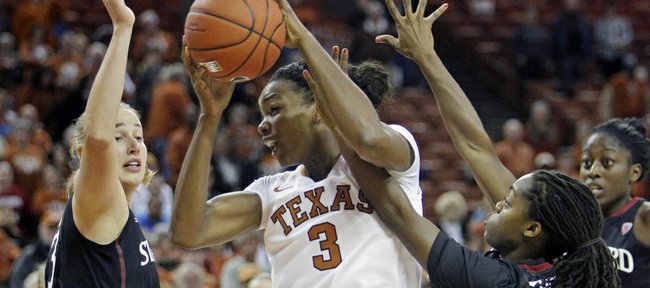 It did not take long for Kansas University women's basketball coach Bonnie Henrickson to pinpoint the difference between victory and defeat during KU's 12-point loss at Texas on Jan. 15.
"The film that I put together, we watched five and a half minutes — where it's about a 2:45 stretch in the first half and a three-minute stretch in the second half — where we got outscored by 16 and weren't able to answer their runs," Henrickson said.
The Jayhawks (10-10 overall, 3-5 Big 12) will get another crack at the Longhorns (13-6, 4-3) at 7 tonight at Allen Fieldhouse.
UT leads the all-time series with Kansas, 16-10, but the Jayhawks won three of the last five meetings and truly believe they could have won in Austin, Texas, two weeks ago.
"We played really, really well and then the light switch went off and we stunk for a few minutes," Henrickson said. "You really can't do that on the road and you can't do it in this league. Good teams are going to answer, but we didn't limit their runs."
That meeting, in which KU post players Chelsea Gardner (11 points), Jada Brown (10) and Caelynn Manning-Allen (6) led the Jayhawks' attack, came before KU's victory over No. 7 Baylor. It's been a different story for the Jayhawks since then.
KU is just 1-1 since the Baylor victory, but the one win came Saturday at Kansas State, and the one loss came in the final three minutes against No. 8 Oklahoma State.
"After the Baylor game, we all knew that we could hang with anyone we play," said Markisha Hawkins, who tallied 10 points in the victory over KSU. "So now we're all just trying to do everything we can to win. ... I don't feel any pressure. I actually like what's going on. We know what we're capable of."
Henrickson credits the team's ever-expanding mental approach for the recent run of success.
"I think we've become more consistent," she said. "We've talked about how we don't have a lot of room for error, but if you play with good energy and effort and you're consistent, there shouldn't be a lot of error."
Although the Longhorns aren't a Top 10 team or an in-state rival, the Jayhawks' errors certainly will have to be at a minimum tonight if they hope to prevail.
In the last meeting, the Longhorns owned Kansas on the boards, particularly on offense, where they picked up a dozen offensive rebounds. Henrickson said preventing that is a big emphasis this time.
"(Junior) Nneka (Enemkpali) is the best offensive rebounding power forward in the country, not just in our league," Henrickson said. "Just explosive. She's got a 40-inch vertical. She works early and she's physical and she embraces that role."
More like this story on KUsports.com