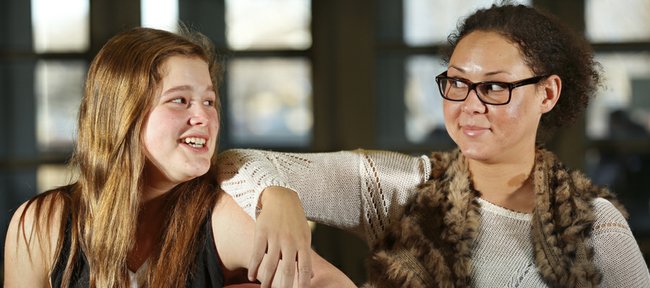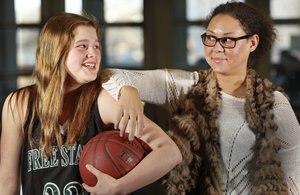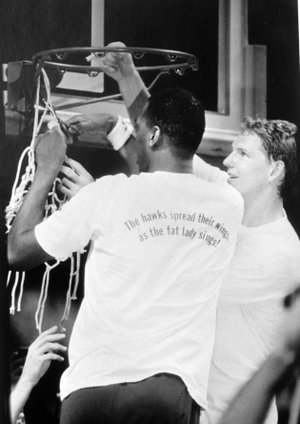 Danny Manning and Chris Piper made quite an impact on the history of basketball in Lawrence after winning a national championship at Kansas University in 1988.
What they could not have realized after cutting down the nets in Kansas City's Kemper Arena in 1988 is that their legacies would continue through their daughters at Free State High a couple of decades later.
Free State freshman Madison Piper leads the Sunflower League in scoring and rebounding, while Taylor Manning is in her first season as an assistant coach for the Firebirds.
"The greatest thing about both of them is that they're both tremendous athletes and tremendous competitors, but I'm also just really proud about how they act as people," Free State head coach Bryan Duncan said.
Duncan remembers watching Danny and Chris play at KU, and despite only coaching Madison for half of a season, he sees a lot of similarities between the freshman and her father.
"Chris was a hard-nosed player and known as being an excellent passer as well," Duncan said. "You can certainly see some of that competitiveness come out in his daughter."
The Firebirds opened the season 0-4 but have rebounded to a 3-2 record in league play.
"We are definitely a young team. We've had our trials and tribulations, but every day I think we are working on getting better, so that is all I can ask for," Taylor Manning said. "All I can ask for is their effort and their want-to, and I'm seeing that. It's awesome to see them improve and taking the little steps along the way."
Taylor, a 2009 FSHS graduate, played volleyball and basketball at Free State. Despite playing volleyball collegiately at Eckerd College in St. Petersburg, Fla., and at KU, Taylor's true love is basketball.
"(Basketball) is what I have kind of been around for my life," Taylor said. "I love volleyball. It was a lot of fun, but I understand the game of basketball better than I understand any other sport. It is fun for me to relay the information that I know that I think is common knowledge to the girls."
While Taylor has been trying to teach as much as she can to the young Firebirds' this season, she has also focused on learning different aspects of coaching. Taylor's main resource of knowledge has been her father, who is also in the early stages of his coaching career at the University of Tulsa. Danny is in his second season as the head coach at Tulsa. Like the Firebirds, the Golden Hurricane got off to a slow start in nonconference play but have jumped out to a 4-2 record in Conference USA.
"We talk after pretty much every practice and every game, just kind of bouncing ideas off of each other," Taylor said. "He's been my go-to person for ideas and support and how to reflect on different situations."
Madison credits Taylor for much of her success.
"(Taylor) has been great," Madison said. "She has been a big help to the program, and I think she is going to do great things in the future."
Madison has averaged 13.8 points per game through five league games, including an 18-point effort to beat Lawrence High in the City Showdown.
Even though Chris and Danny are LHS alumni, Madison and Taylor indicated their fathers did not give them any grief for defeating Lawrence High.
"We laughed about it and stuff," Madison said. "I think it was fun just for him (Chris) to watch me play on the court he used to play on."
Taylor and Madison had known each other prior to this season, but they have both started to realize that they have the same type of personality.
"I've known Madison for quite a while, and I think we have a very similar sense of humor. We're both kind of sarcastic, so it has been fun for me to get to know Madison a little bit better off the court and on the court," Taylor said. "It has been really fun for me to watch her develop and grow. I have a lot of respect for her game and how much effort she puts in to making herself better."
Although Madison leads the Sunflower League in several offensive categories, she acknowledged that there are aspects of the game on which she needs to improve. Her top priority — just like her dad's — is defense.
"That is his No. 1 thing," she said. "I try to make that my No. 1 thing."
Duncan doesn't want to set any season or career expectations for Madison, but he knows she will continue to improve.
"I think the sky is the limit for Madison, and honestly it is really hard to even predict how high she can go because her work ethic is so strong already," Duncan said.
Duncan's squad is 4-6 overall going into this week's Firebird Winter Classic and the heart of its Sunflower League schedule, so it will not be easy for Free State to make its first appearance in the state tournament since 2010.
However, Danny, Chris and Kansas men's basketball team lost to Nebraska 26 years ago today, which marked the Jayhawks' third straight loss in the middle of a five-game skid.
Nearly 10 weeks later, the team coined "Danny and the Miracles" won a national championship.
Similarly, anything can happen for Duncan's Firebirds. That includes "Madison and the Miracles" making a run for a league and state championship with the coaching help of Danny's daughter.
"They are also just very classy individuals, and they are very respectful of others and are very humble," Duncan said. "I think those are very strong characteristics of them and their families."