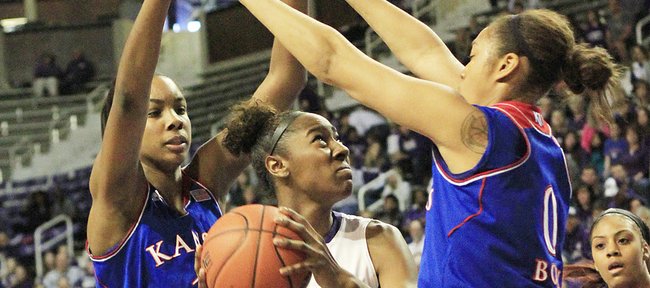 Document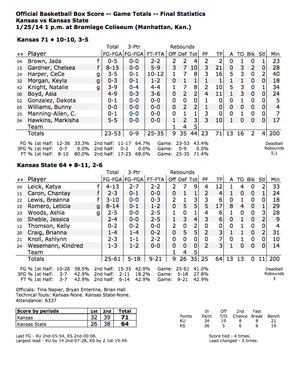 Manhattan — As it turns out, there is more than one way for Kansas University's women's basketball team to shred a Wildcats defense.
Just when their primary source of offense disappeared Saturday afternoon at Bramlage Coliseum, the Jayhawks proved they had plenty of other options. Starting senior shooting guard CeCe Harper and backup guards Asia Boyd and Markisha Hawkins carried KU's offense with leading scorer Chelsea Gardner on the bench in foul trouble, allowing KU to leave the Sunflower Showdown with a relatively easy 71-64 victory over Kansas State.
"We've talked about all year we're a team that doesn't have a lot of room for error," coach Bonnie Henrickson said after KU (10-10 overall, 3-5 Big 12) made it back to .500, "but if you play with discipline, and you're consistent, there shouldn't be a lot of errors."
The way the second half began, it seemed as if mistakes might cost the Jayhawks, who held a 32-26 halftime lead over K-State (8-11, 2-6). After turning the ball over twice the first half, Kansas gave it away four times in the first 2:06 of the second, and Gardner, who torched the Wildcats for 17 first-half points, picked up her third foul with 17:21 to play.
The dismal start got under Boyd's skin. The 6-foot-1 guard from Detroit stood up from her spot on the bench after seeing one too many turnovers and admonished the five players on the floor to get their act together.
"I was just trying to get them to focus a little bit more," Boyd shared after KU's first Big 12 road victory of the season. "We've been in situations like that, and we've got to lock in."
Before long, she was on the floor, helping to right the ship. On her first touch, Boyd patiently drove in from the left wing for an and-one, three-point play that gave Kansas a 37-29 lead.
Boyd said the Jayhawks have spent practice time playing with lineups that don't include Gardner, in order to prepare for situations when the 6-foot-3 forward is in foul trouble.
"Today we had to figure it out," Boyd said.
After Boyd, a junior, came in with some fire, KU began to click. Junior point guard Natalie Knight (10 points, eight rebounds, five assists) answered a K-State bucket from Breanna Lewis by leaking out and scoring in transition, via a Harper deep pass.
Those plays established a new tone and allowed KU to outscore its rival, 21-16, in a stretch of 10-plus minutes without Gardner.
Boyd scored six of her 11 points, Hawkins added six of her 10 and Harper contributed six of her 16 as Kansas extended its lead without the services of its leading scorer.
Said Henrickson: "We're also a team that has a lot of moving parts, and a lot of kids that come in and contribute and play. 'Hawk' — Markisha — did a great job for us today … hit big buckets, defensively was really, really good. … It's nice to go to the bench to a senior, who I thought did a really good job."
Henrickson credited freshman forward Caelynn Manning-Allen, who only played six minutes in the second half, with facilitating KU's back-court production by occupying K-State's post defenders.
"We made better decisions," Henrickson said of the Kansas guards. "We were aggressive, but we made better decisions from a discipline standpoint. We still tried to attack."
Once Gardner (21 points, 10 rebounds) returned, she scored four straight points, giving KU a 59-45 lead with 5:28 to play.
The Wildcats, led by freshman guard Leticia Romero's 17 points, rallied late with an 8-0 run in the final minutes. The spurt, which included a pair of Katya Leick three-pointers, cut into what had been a double-digit KU lead for much of the second half.
However, Harper, a 62-percent free-throw shooter coming in, hit eight of her 10 freebies in the final five minutes to help the Jayhawks seal the victory.
The Jayhawks will play host to Texas at 7 p.m. Tuesday.
More like this story on KUsports.com