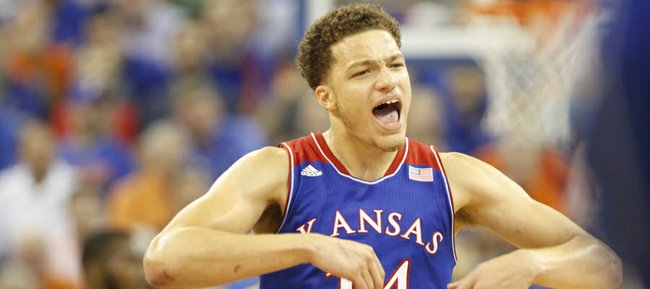 Not long ago, Joel Embiid was the one watching Brannen Greene and the rest of his talented AAU teammates get all the playing time while he sat on the bench. They have traded roles.
But it's not as if Greene is shocked to see the strides made by Embiid, college basketball's center of attention.
"We all knew he was going to be really good," Greene said. "It was just that, at that point, he wasn't very good."
Embiid's muscle and experience expanded, and look at him now.
"I mean, he's always had the moves, but he used to not be able to finish," Greene said. "He wasn't strong enough. He's definitely improved. He's a great player."
Embiid's story — grew up competing on volleyball courts and soccer pitches of Cameroon, took up basketball three years ago — is so compelling he's the most talked-about college basketball player of the moment. All the attention is new for him.
"I think he's handling it great," Greene said of Embiid. "He's a fun kid. He just likes to have fun. He's enjoying being here at Kansas."
Watching others play while he sits is as new to Greene as fame is to Embiid. Does he feel as if he is KU's overlooked freshman?
"No, not all," Greene said. "Look at our players. We've got Andrew Wiggins, Joel Embiid, Wayne Selden. I'm not overlooked. I'm here. I'm doing my thing. I'm fine."
An agile 6-foot-7, 215-pound small forward with a beautiful jumper and nice spring to his body, Greene endured a recent six-game stretch in which he totaled 17 minutes and missed his only two field-goal attempts. But in the past two games, the serious talent has scored eight points in 11 minutes, making three of four field goals and two of four three-pointers. He cited his need for defensive improvement for the bench time. The positive side of coming off the bench is that it means he gets to sharpen his game going against big-time talent daily in practice.
"I'd probably say I guard Wiggins the most," Greene said. "It's usually between Wiggins or Wayne. It's definitely helped me improve defensively and offensively because (Wiggins) also guards me, and he's such a great athlete. You learn to score over long arms and an athlete like that. It makes you better when you've got a different defender in front of your face."
Former Pittsburg State basketball player Jeff Greene, Brannen's father, used to be that defender, but when the son at age 16 finally beat the father in a game of one-on-one, it was time for Brannen to find tougher competition.