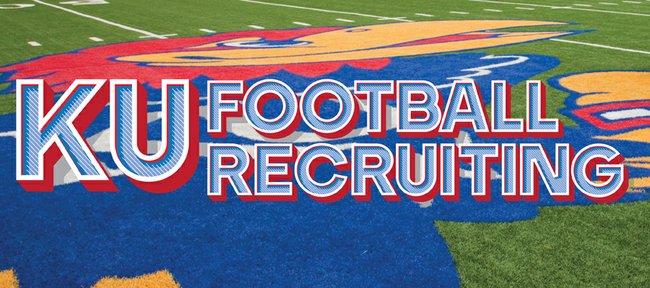 6:45 p.m. Update:
The Kansas football program picked up its second commitment from a Texas high school defensive lineman tonight, when Lay'Trion Jones, a 6-foot-3, 285-pound tackle from Garland (Texas) High orally committed to join the Jayhawks.
Jones picked Kansas over offers from New Mexico, New Mexico State, UTEP and late interest from Arizona State.
Jones, an avid musician who wants to major in music in college, visited KU the weekend of Jan. 17. During his trip to Lawrence, he met with the head of KU's music department and said everything went great on his visit.
"It was good hanging around all of the players," Jones told Jon Kirby of JayhawkSlant.com. "I absolutely love the coaching staff and can see myself playing there. I was thinking about committing. Kansas is my top school. Kansas is really on my mind."
The addition of Jones brings KU's list of commitments in the current class to 20, with five of them coming on the defensive line.
Original story:
The Kansas University football program picked up a late gem in its Class of 2014 recruiting efforts on Thursday, when Lufkin (Texas) High defensive lineman D.J. Williams orally committed to KU, according to a report from JayhawkSlant.com.
Williams, a 6-foot-3, 270-pound tackle with a three-star rating from Rivals.com, chose Kansas over offers from Houston, Miami (Fla.), Missouri, North Texas and Oklahoma, as well as interest from dozens of other programs.
Williams made an official visit to Kansas in October and was scheduled to take a visit to Missouri in the near future but is now expected to skip that due to his commitment to Kansas.
Following his visit, Williams told JayhawkSlant.com's Jon Kirby that he was impressed by every aspect of KU's program.
"I had a chance to talk to most all of the coaches," Williams told Kirby last October. "They were all real cool and I believe they can help me become a better player.... "My visit with Coach Weis was good. He told me he wants to come and be a difference maker. He met with me and my grandma and she liked that he talked about it is books first."
Recruiting coordinator Rob Ianello, defensive line coach Buddy Wyatt and Weis all played key roles in landing Williams, who is expected to make his commitment official on national signing day, Feb. 5.
On paper, Williams is definitely one of the biggest pick-ups in the current class, if not the biggest. He ranks as the 38th best defensive tackle in the nation, the fourth best defensive tackle in Texas and the 75th best player regardless of position in his home state.
He becomes the 19th player to commit to Kansas in the current class and the fourth defensive lineman, two from the prep ranks and two junior-college prospects.
Weis has said throughout the offseason that KU could take as many as 26 players in the Class of 2014 but the possibility certainly exists that they will not reach that number by signing day to save a spot or two for potential transfers down the road.