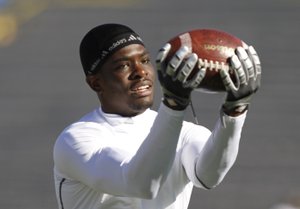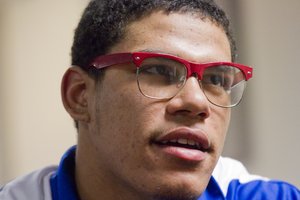 A former Kansas University football player and one of four men arrested in a May 2013 alleged robbery of cash and marijuana at gunpoint pleaded guilty Thursday on amended charges of felony theft in exchange for testimony against another former player who has also been charged.
Christopher A. Omigie appeared in Douglas County District Court on Thursday and pleaded guilty to the new charges, which stipulate that he will testify against another former KU football player, Christopher S. Martin, in a March jury trial.
Omigie, who now lives in Texas and is free on a $30,000 bond, agreed to cooperate with the state's prosecution against Martin, who is scheduled to go to trial on March 3 after pleading not guilty to aggravated robbery in June.
Omigie was arrested in August and was the fourth to be charged in the alleged robbery of cash and marijuana at gunpoint from a man at a home in the 1900 block of Camelback Drive. Jeremiah Letrell Edwards, of Garland, Texas, Joshua Edwards, of Lawrence, and Martin, of Oakland, Calif., were also charged. Jeremiah Letrell Edwards was sentenced to three years of probation in October, and Joshua Edwards was sentenced to two years of probation in August.
"I was accomplice to stealing weed and money," Omigie told Douglas County District Judge Paula B. Martin on Thursday.
Omigie's defense attorney, James Brun, told the judge that Omigie served as the driver during the robbery. In pleading guilty to felony theft, Omigie agreed to waive a preliminary hearing and the right to appeal his conviction. Martin ordered a presentence investigation and set a March 21 sentencing. Depending on his criminal history — which, according to Brun, includes a misdemeanor DUI — Omigie faces five to seven months, presumptive probation and the possibility of a fine up to $100,000.
According to Brun, Omigie is now in college in Texas. He played football at KU as a junior in 2012 but was not listed on the team's roster entering 2013.
Christopher Martin is scheduled for a jury trial on March 3 and will next appear in Douglas County District Court on Feb. 21. He is free on a $35,000 bond.