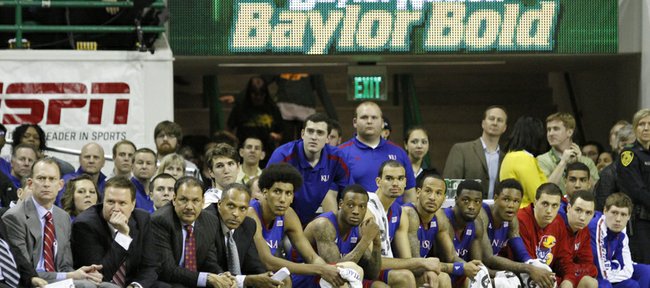 Baylor's No. 12-ranked basketball team, which figures to sink in the AP poll after losses to Texas Tech and Oklahoma last week, today travels to a place not conducive to slump-busting.
The Bears (13-4, 1-3) visit Kansas University's Allen Fieldhouse — where they are 0-10 all-time — for an 8 p.m. Big Monday clash against the Jayhawks (13-4, 4-0). That 0-10 record includes just three games decided by 10 points or less. The Bears, let the record show, also lost in Hoch Auditorium in 1951, meaning BU is 0-11 on KU's campus.
"Baylor is a very talented team," KU senior Tarik Black said, caring more about the fact the Bears beat Kentucky (67-62 in Arlington, Texas) and Colorado (72-60 in Dallas) in the nonconference season, than stats from the past. "They can come out and beat anybody in conference any night of the week. They're not somebody we should underestimate by any means just because they took a loss (66-64 to Oklahoma on Saturday at BU). We took some losses early in the season. See where we are today and how talented we are. They are the same-type team. We have to come out and be prepared and be dead serious with them."
Senior forward Cory Jefferson leads BU in scoring (13.1 ppg) and rebounding (8.4 rpg), while junior point guard Kenny Chery is right behind with 11.9 ppg and 5.1 assists per contest. Sophomore center Isaiah Austin averages 10.4 points, 5.7 boards and 2.8 blocks.
Three-point bomber Brady Heslip averages 10.8 ppg with 46 threes in 99 attempts (.465).
"We'll get a hungry team on Monday, but they should get a hungry team, too. We are not leaving here happy," KU coach Bill Self said after Saturday's 80-78 home victory over Oklahoma State.
It was a game in which the No. 15-ranked Jayhawks held a 19-point first-half lead.
"We'll come out and give as aggressive an effort as we've given all year on Monday," Self said.
It should be interesting tonight to see how freshman Andrew Wiggins responds to his worst game of the season, a three-point, two-rebound outing against Oklahoma State. Wiggins, who hit one of five shots, played just one of the final nine minutes.
"I know he'll be fired up," said freshman guard Frank Mason, who scored six points and grabbed four rebounds in 18 minutes Saturday. "We'll all get him fired up and ready to play as a team because that's what we should do as a team."
Wiggins remains KU's leading scorer at 15.1 points a game, ahead of Perry Ellis (12.9), who had six points versus OSU in just 18 minutes.
"I talked to him (Wiggins) on the bench today. I talk to him every day at practice. I talk to him every day when we are not at practice," Black said. "You are going to have a bad game. We are all human. Nobody is going to be perfect. You are going to have actually more than one bad game. The thing about it is, how do you bounce back? Or if your shot isn't falling, what other things are you doing to help the team? That's what I talked to him about today (during OSU game). When your shot is not falling, rebound the ball, get some deflections, use your athleticism, do some other things you are capable of, because he's a very talented player."
Black scored eight points off 4-of-5 shooting while playing nine minutes the first half and none the second. He dunked hard after storming down the lane and accepting a pass from junior point guard Naadir Tharpe. That dunk gave KU a 29-15 lead, to the delight of the fans, who forced OSU coach Travis Ford to call a timeout.
Black was asked if he envisioned crowd-pleasing plays like that when he decided to transfer from Memphis to KU for his senior season.
"When I transferred, I was looking at the big picture," the 6-9 forward said. "One dunk doesn't win a lot of games. My main goal was to come to a program where we had an opportunity to win big. You see what we're doing right now (4-0 in league with wins in seven of the past eight games)."
Of point guard Tharpe, who had 21 points Saturday after scoring 23 versus Iowa State on Monday, Black said: "Fantastic. A guy like him, being one of our leaders ... he's been in the program awhile. We expect him to step up to the plate like that. Really and truly, we wouldn't have won the game (vs. OSU) without him. We need him every night; every night, the same thing."
An unsung hero Saturday might have been sophomore forward Jamari Traylor, who had nine points and three boards in 19 minutes. Black and Traylor like being on the court at the same time.
"It's chemistry," Black said with a smile. "Me and Jamari are cool and have a relationship beyond the court. We're from similar backgrounds, understand each other. It helps our relationship and actually shows and displays itself on the court, our feeling for one another."
Tidbits: Self is 11-4 all-time against Baylor, including 11-3 while at KU; BU's Scott Drew is 3-11 versus KU. ... BU, which trails KU 19-4 all-time, has won two of the last three meetings — in Waco last year and in the 2012 Big 12 tournament. ... BU has lost by an average of 16.5 ppg in its 11 setbacks in Lawrence. The closest BU has come to winning here was an 81-75 loss on Jan. 20, 2010. That BU team went to the Elite Eight. ... The Bears' other two wins vs. KU were on Feb. 12, 2001, in Waco and March 12, 2009, in Oklahoma City. ... Prior to last season's win in its final regular-season game, BU had lost 12 consecutive regular-season games vs. KU by an average of 16.3 ppg. ... Heslip has made multiple threes in 14 of 15 games in which he has attempted at least three treys. He holds the school record with a 42.9 career three-point percentage and ranks fourth with 229 career threes made. ... Heslip averages one turnover every 74.6 minutes played. ... Isaiah Austin is tied with Willie Sublett for sixth in BU history with 106 career blocks. He needs 28 more to pass Ekpe Udoh (133) for fifth place. He's scored in double figures in 10 of his last 11 starts. ... Ish Wainright, a freshman out of Raytown (Mo.) South High and Montrose Christian in Maryland, has 13 assists and three turnovers in 66 minutes played over his last six games. Prior to that, he had 15 assists and 20 turnovers in 148 minutes played over his first 11 collegiate games.
More like this story on KUsports.com