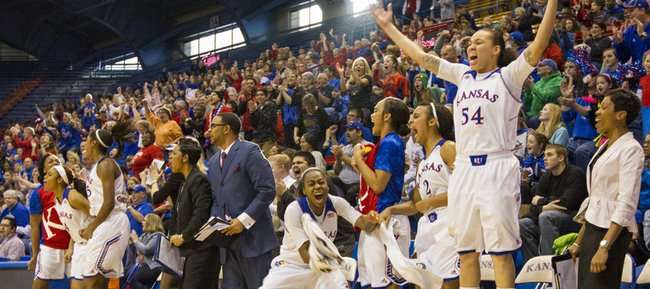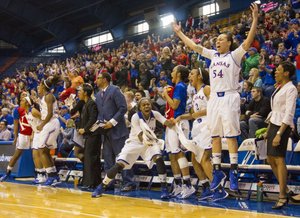 Document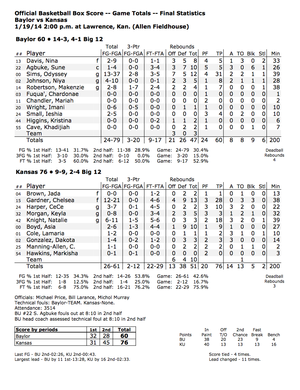 In desperate need of a victory that could turn around its season, Kansas University's women's basketball team might have earned just that Sunday afternoon, upsetting No. 7 Baylor, 76-60, at Allen Fieldhouse.
The Jayhawks, who entered the game with a losing record, found a balance between loose and assertive in their second-half approach, and junior forward Chelsea Gardner scored 15 of her team-leading 28 points in the final 20 minutes.
While star Baylor guard Odyssey Sims couldn't be stopped in the first half, scoring 21 points to help the Bears (14-3 overall, 4-1 Big 12) hold a 32-31 halftime edge, she missed 15 of her 19 shots in the second half, when KU limited one of the nation's top teams to 11-for-38 shooting (28.9 percent).
The Jayhawks (9-9, 2-4) got back to .500 by making 14 of their 26 second-half shots (53.8 percent).
Junior point guard Natalie Knight scored nine of her 18 in the second half, and senior guard CeCe Harper poured in eight of her 10 after halftime, including two critical fast-break layups in the final six minutes.
KU's reserves out-scored Baylor's backups, 16-4, with junior guard Asia Boyd contributing seven of her nine points in the second half.
The Jayhawks play host to Oklahoma State at 7 p.m. on Wednesday.
— Check back at KUsports.com later for more on the Jayhawks' win.