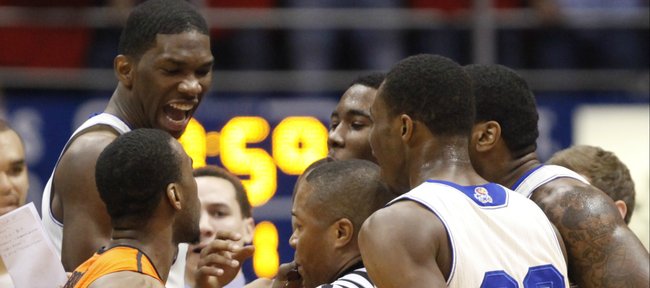 Photo Gallery
KU basketball v. Oklahoma State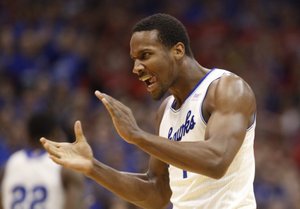 Images from Saturday's game between the Jayhawks and Cowboys at Allen Fieldhouse.
Kansas 80, Oklahoma State 78
Despite a combined six technical fouls in 15th-ranked Kansas University's 80-78 men's basketball victory over No. 9 Oklahoma State on Saturday, neither KU coach Bill Self nor Oklahoma State coach Travis Ford believed there was anything nasty about Saturday's classic Big 12 showdown in Allen Fieldhouse.
"It was emotion," a disappointed Ford said after the game. "I don't think any of it was dirty or anything like that. Two teams that played very, very hard. They've got good kids. We've got good kids. Two teams that were trying their hardest to win the game."
Added OSU sophomore guard Marcus Smart, who put himself in the middle of all kinds of contact plays all day: "This is an emotional game. It's a passionate game, especially with a game like this, as hyped up as it was. You had two teams coming at it that are very great teams with very talented players, so obviously you're going to have emotions flying everywhere."
The Cowboys, particularly, experienced all sorts of highs and lows throughout Saturday's 40-minute drama.
At tipoff, the Cowboys (15-3 overall, 3-2 Big 12) had more than a little bounce and took the floor determined to show they were ready to do what they did in this same building a year ago: win. But by the eight-minute mark of the first half, they were down 14 points, the product of a 13-0 Kansas run, and had the howls of Allen Fieldhouse ringing in their ears.
With 48 seconds to play in the first half, the Cowboys trailed by a game-high 19 points, but less than seven minutes of game clock later had trimmed KU's lead to just four, 54-50, following a ferocious start to the second half.
"We should've come out like that the first half," Smart said.
On an individual level, no Cowboy experienced that up-and-down flow quite like Smart, who finished with 16 points in 39 minutes but made just three of 14 shots from the floor.
It would be easy to say Smart had an off night, but — aside from his shooting — the rest of his stat line showed a different story. In fact, the All-American candidate landed just one assist shy of a triple-double, finishing with 10 rebounds, nine assists and four steals to go along with his poor shooting.
Asked after the game if all of his misfires had him in a foul mood, Smart shook it off.
"I wasn't that frustrated," Smart said. "I knew coming into this game they were going to do everything in their will not to let me score. So I had to become a facilitator, and I was finding the open guys, and my teammates were hitting open shots."
Despite all of Saturday's wild twists and turns, the Cowboys somehow found themselves with possession in the waning seconds and a chance to tie or win. But instead of being the hero by hoisting a memorable shot, Le'Bryan Nash was stripped by KU freshman Frank Mason. and the Jayhawks (13-4, 4-0) came out on top.
"It's incredible coming into this gym, this hostile environment, down 19 and coming all the way back and having a chance at the end," Smart said.
Added Ford: "There's definitely some positives that came out of this game. And quite a few negatives, too."
More like this story on KUsports.com