Saturday, January 18, 2014
Photo Gallery
KU basketball v. Oklahoma State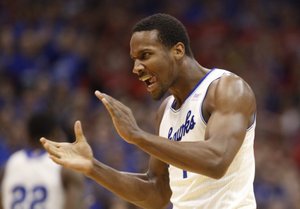 Images from Saturday's game between the Jayhawks and Cowboys at Allen Fieldhouse.
Podcast episode
KU coach Bill Self calls KU's 80-78 victory over Oklahoma State "a relief."
Podcast episode
Jamari Traylor, Naadir Tharpe and Joel Embiid following KU's 80-78 victory over Oklahoma State
The Keegan Ratings
Kansas 80, Oklahoma State 78
Andrew Wiggins and Perry Ellis, the Kansas University basketball team's two leading scorers, warmed the bench more than the nets in Saturday afternoon's 80-78 survival victory against Oklahoma State in Allen Fieldhouse.
Ellis played just five second-half minutes, Wiggins just 12. Ellis didn't have a foul all game, so that wasn't the issue. Wiggins was whistled for his third with 9:18 left and headed to the bench. Exactly eight minutes of game clock later, the freshman returned. His uninspiring play to that point was only part of the reason KU coach Bill Self decided to let Wiggins watch instead of play.
With good reason, Self showed a great deal of confidence in his bench.
Even in a game in which Oklahoma State reserve guard Phil Forte torched Kansas for 23 points, KU's bench outscored the Cowboys, 28-23. Pokes coach Travis Ford turned to his bench for 52 minutes, Self to his for 54.
"Wiggs had the worst game he's had all year," Self said. "Perry had as bad a game as he's had all year. Wayne (Selden) had as bad a game as he's had in a long time and we won. So the bench was good."
Nobody had to tell that to Ford, whose depth took a hit when starting center Michael Cobbins, easily the team's best post defender, suffered a season-ending injury recently.
"I don't know a team in the country that is as talented and as deep as they are," Ford said. "They've got so many good basketball players, so deep."
Four KU reserves made 11 of 15 shots, had 10 rebounds and committed just 2 of the team's 19 turnovers. The fifth, Conner Frankamp, played just one minute and missed a three-pointer.
Jamari Traylor, the third-year sophomore built more like a football player and a relative newcomer to basketball, led the way with nine points, three rebounds, a big blocked shot and a perfect shooting day. Unveiling a free-throw line jumper on which he has been working since shortly after he started playing organized basketball as a junior in high school, Traylor hit one on his way to a 3-for-3 shooting day. He also made all three free throws he attempted.
Tarik Black, KU's other muscle-bound post player, had as much as anybody to do with a 47-30 halftime lead. He rocked the ball behind his head and threw down a two-handed slam on his way to eight points, a big blocked shot and 4-of-5 shooting. He didn't play a minute in the second half because starting center Joel Embiid dominated the much shorter Cowboys.
Having such physical reserves behind the athletic, skilled finesse big starters gives Self the option to bring on the muscle when the circumstances called for it, such as they did in Saturday's heated contest in which six technical fouls were called.
"I pretty much just try to come in, defend, rebound and bring energy to the team," Traylor said. "Anytime I come out and do that, I think we get a better edge over the opponents' big men because (Tarik and I) are pretty good coming off the bench and a lot of teams don't have good big men coming off the bench."
The Jayhawks have the potential to bring better ballhandling off the bench, as well, should they be on the way to another 14-turnover half such as KU experienced Saturday in letting a lead leak away in the final 20 minutes. Frankamp (three turnovers in 86 minutes) could lend a steadying hand and at times a hot one as well, complementing the big-play hand of Frank Mason, who made the game-saving play by swatting the ball away from Le'Bryan Nash before he could get up a shot.
Self even let Brannen Greene out of his doghouse for a productive seven-minute run, all  in the first half. It was the most Greene had played in a game since getting 16 minutes vs. New Mexico on Dec. 14, also the date of Greene's most recent field goal before Saturday.
Greene rewarded his coach's renewed faith in him with five points, 2 of 3 shooting from the field and 1 of 2 three-pointers, to go with an offensive rebound.
Clearly, KU's starters aren't the only ones improving.