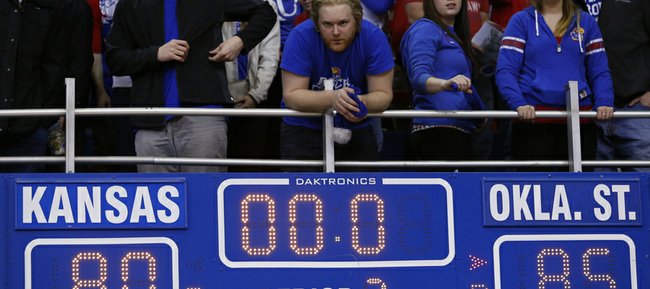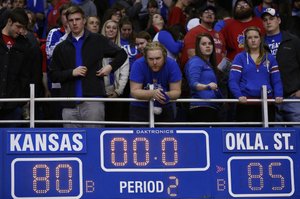 Something mighty significant has to happen for Marcus Smart to get the opportunity to perform an encore backflip this afternoon in Allen Fieldhouse.
His No. 9-ranked Oklahoma State Cowboys (15-2 overall, 3-1 Big 12) first have to defeat the No. 15 Kansas Jayhawks (12-4, 3-0) in Lawrence for the second straight season.
Obviously, that's easier said/written than done. Iowa State is the last team to claim back-to-back victories in Allen — in 2000 and 2001. Prior to that, Missouri managed consecutive wins in 1989 and '90.
"They (Jayhawks) struggled at the beginning of the season, but they are coming on," OSU sophomore phenom Smart, a 6-foot-4, 220-pound guard from Flower Mound, Texas, told the AP this week in discussing the challenge that awaits. "They're a young team, but a good team. We're going to have to bring our A-game."
Smart, who averages a team-leading 17.9 points with 5.5 rebounds per game, angered KU fans last year by back-flipping after scoring 25 points and grabbing nine boards an 85-80 victory over the Jayhawks in Allen. OSU snapped KU's 33-game homecourt win streak.
Then, in a preseason USA Today article and again at Big 12 Media Days, Smart spoke in less-than-reverential tones about KU freshman Andrew Wiggins.
"A lot of people are saying he's the best player now in college basketball," Smart stated at the time. "All I'm saying is how can you be the best player in something you haven't even played yet?"
This week, Smart commented about his Media Day comments.
"A lot of people took their own opinions to that statement I made. I'm not really here to talk about that," Smart told the AP. "This team has a lot on their minds, a lot on their plate to get ready for Saturday against a great team and a great coach and a great crowd."
KU's Wiggins leads the Jayhawks in scoring (15.8 ppg) and is third in rebounding (6.3). He's also the squad's defensive stopper.
"Extremely talented ... one of the best finishers in all of basketball when it comes to (the) fast break. And I said all of basketball. I'm including now, the next level, anybody," OSU coach Travis Ford said of Wiggins to the AP. "There are probably not 10 other players even in the NBA that can finish on the break like he can finish. He's special."
That's quite a different tone from Ford's preseason crack: "Kansas is still the favorite (in Big 12 race). Wiggins is, from what I understand, the best player to ever play."
KU coach Bill Self this week said Smart, who had 39 points in a victory over Memphis, would be a top-five pick in the 2014 NBA Draft.
"It was probably a good decision for him to come back, and I know it's been great for their program. They've been, from start to now, probably the most consistent and best team in our league so far, and of course he's a huge reason why," Self said. "The thing that amazes me about him is that he impacts an entire program from a personality standpoint, and he's been great in that regard."
Le'Bryan Nash, a 6-7 junior from Dallas, averages 13.5 points and 5.9 boards. Markel Brown, a 6-3 senior from Alexandria, La., who scored 28 points in hitting seven threes at KU last year, averages 16.6 ppg and 5.2 boards. Phil Forte, 5-11 son of former KU football player Phil Forte, averages 12.0 ppg. He has made a team-best 46 three-pointers coming off the bench. A year ago, the Flower Mound, Texas, native had 11 points as a freshman in Allen.
"You've got to guard the ball. You can't help off of those guys too much at all," Self said of Nash and Smart. "We're going to have to do a good job of showing strong help and basically having Marcus think that no matter which way he goes he's got 11⁄2 guys guarding him. But still, you're not giving up open looks to their shooters.
"Markel and Forte ... those are two guys we've got to get to. But Marcus is making shots, too. Marcus is shooting a pretty good percentage (46.3) and made more threes (29 of 84) this year. So there's a lot of guys you've got to guard on the perimeter."
The Cowboys are without Michael Cobbins, a 6-8 junior who tore his Achilles in late December.
"Obviously, that's one less big guy they have, and I thought he was a great rim protector and kind of an anchor for them," Self said.
Cobbins' replacement is 6-8 sophomore Kamari Murphy, who contributes 5.9 points and 5.9 boards.
"Murphy is doing a good job," Self said. "I don't know if it's really affected them much unless depth becomes a concern."
'Jayhawkers' talk: KU film and media studies professor Kevin Willmott's film, "Jayhawkers" will premiere at 7 p.m., Feb. 14 at the Lied Center. KU senior forward Justin Wesley plays Wilt Chamberlain in the film that, according to a release, "Tells the story of a group of unlikely allies who modernized college sports and changed Lawrence during the Civil Rights movement that would transform the entire American Society."
Additional screenings will be at the Lied Center at 11 a.m., 7 p.m. and 9 p.m., Feb. 15; and 1, 4 and 7 p.m., Feb. 16.
This, that: KU, which has won five of six and seven of 10 vs. OSU, leads the all-time series, 107-54. ... Since the inception of the Big 12, KU is 18-7 vs. OSU ... KU is 43-9 vs. OSU in Allen. ... Self is 11-8 all-time against his alma mater, including a 10-5 record at KU. Travis Ford is 2-6 versus KU ... KU junior Naadir Tharpe's mom, Lori, today will attend her first game in Allen.
More like this story on KUsports.com