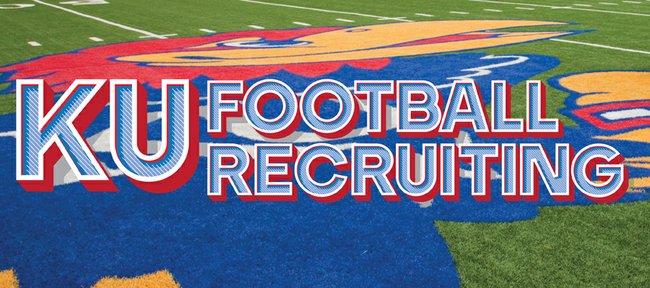 After a monthlong dead period, college football coaches hit the road recruiting again Thursday.
Kansas University coach Charlie Weis sent assistants to various parts of the country, but they all figure to be back in time for this weekend's home basketball game between 15th-ranked KU and No. 9 Oklahoma State, slated for 3 p.m. Saturday at Allen Fieldhouse.
Around 12 football recruits will be in town for official visits this weekend, when the showdown between the Jayhawks and Cowboys will be a focal point for the visits.
Weis has said in the past that he believes Allen Fieldhouse is one of the best recruiting advantages KU has because it allows athletes to experience the love and support KU students and the community have for Kansas athletics.
A handful of the players in town this weekend already have committed to Kansas (Joe Dineen, Tyler Patrick, Kent Taylor, Apa Visinia, Traevohn Wrench) and are simply taking their official visits to get one more look at their future home. But the others remain undecided. With KU still having around a dozen open spots in the Class of 2014, these next couple of weekends will be big for Kansas football.
Here's a quick look at some of the players expected in this weekend:
l WR Darious Crawley, 5-11, 191, Cypress Ridge High, Houston. Three-star prospect seems to be locked in on Kansas, Michigan State and TCU as his finalists. Has been used all over the field but is being recruited by Kansas as a wide receiver. He'll make the trip by himself.
l LB Josh Ehambe, 6-3, 230, Prime Prep Academy, Arlington, Texas. The versatile two-star prospect also has offers from Colorado State, Louisiana Tech, New Mexico, SMU and Washington State.
l DE Kapil Fletcher, 6-4, 255, Hartnell C.C. Two-star prospect drawing interest from Colorado, Hawaii, Mississippi State, New Mexico and others, has just two years of football experience but finished 2013 with 45 tackles, six sacks and 7.5 tackles for loss.
l DT Lay'Trion Jones, 6-3, 285, Garland (Texas) High. The Jayhawks began recruiting Jones in December and quickly liked what they saw. KU is by far the biggest name on his offer list.
l RB De'Andre Mann, 5-10, 205, Hartnell C.C. Three-star juco All-American is seeking the best fit in terms of system, teammates and coaching staff. Also has offers from Colorado State, Georgia State, Hawaii, Purdue and others.
l WR Derrick Neal, 5-10, 155, Lincoln High, Dallas. Three-star prospect who originally committed to play football at Texas Tech but then changed and committed to play basketball at UT-Arlington is back in football mode, with KU and New Mexico as his leaders. Baylor and TCU also may be in the picture.
D-end picks Kansas
Daniel Wise, a 6-foot-2, 244-pound defensive end from Hebron High in Lewisville, Texas, gave an oral commitment to KU on Thursday.
Wise, a two-star prospect who made an official visit to KU last fall, had offers from Colorado, Louisiana Tech, Missouri and Texas Tech. According to Jon Kirby of JayhawkSlant.com, Wise committed to Kansas on Thursday night and canceled an upcoming recruiting visit to Missouri.
Wise is the 14th commitment in the current class, leaving KU with room to add up to 12 more.
More like this story on KUsports.com