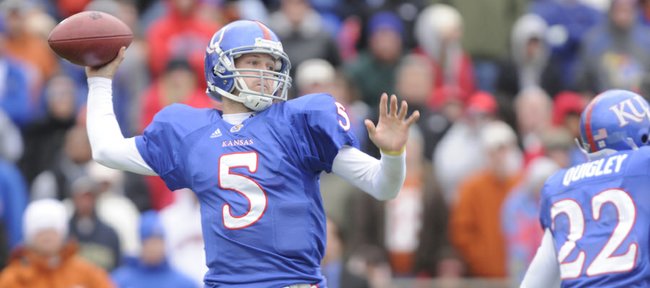 Reader poll
Kale Pick

8%

158 votes

Jordan Webb

32%

583 votes

Quinn Mecham

3%

56 votes

Dayne Crist

2%

51 votes

Michael Cummings

6%

124 votes

Jake Heaps

24%

436 votes

Montell Cozart

22%

399 votes
1807 total votes.
Todd Reesing (2007-2009)
Record as starter: 25-13, .658
Completion percentage: 63.8
Touchdowns/interceptions: 90-33
Yards per pass attempt: 7.7
Yards per rush: 1.9
The No. 7 and the position quarterback. Think about those together and you automatically picture Denver Broncos great John Elway. If you'd like to keep it that way, don't read on. If you'd rather replace that image with another, continue, but do so with caution and feel free to take the exit ramp at any time.
The Kansas University football program, 9-39 since the departure of the great Todd Reesing, has started seven quarterbacks since No. 5 stopped scrambling and entered the business world.
When compared to Reesing, his seven successors are tied for eighth. When compared to each other, who ranks first? Much, much tougher question. I'm stumped and need your help.
So as not to influence your decision when you cast your vote at KUsports.com on which of his successors you think has been the most effective, the candidates are listed in chronological order by the date each made his first start: Kale Pick, Jordan Webb, Quinn Mecham, Dayne Crist, Michael Cummings, Jake Heaps, Montell Cozart.
In case you were wondering, "none of the above" is not an option in the poll.
Cummings, Heaps and Cozart remain on the roster, but when voting, consider only what they have done so far. Don't project what you think they might do under new offensive coordinator John Reagan and throwing to wide receiver/savior Nick Harwell.
The statistics listed below were produced at KU, as starters and reserves, but only since Reesing's departure. (Crist played at Notre Dame, Heaps at Brigham Young. After being shown the door by Charlie Weis, Webb played at Colorado.)
In the case of Pick, the stats exclude those he compiled as Reesing's backup and as a wide receiver.
---
Kale Pick
Record as starter: 0-1, .000
Completion percentage: 58.3
Touchdowns/interceptions: 0/1
Yards per pass attempt: 5.4
Yards per rush: 0.9
Jordan Webb
Record as starter: 4-15, .211
Completion percentage: 60.6
Touchdowns/interceptions: 20/20
Yards per pass attempt: 6.2
Yards per rush: 0.0
Quinn Mecham
Record as starter: 1-3, .250
Completion percentage: 60.0
Touchdowns/interceptions: 6/5
Yards per pass attempt: 5.6
Yards per rush: 0.2
Dayne Crist
Record as starter: 1-6, .143
Completion percentage: 47.7
Touchdowns/interceptions: 4/9
Yards per pass attempt: 6.1
Yards per rush: Negative-2.4
Michael Cummings
Record as starter: 0-5, .000
Completion percentage: 47.0
Touchdowns/interceptions: 4/4
Yards per pass attempt: 5.4
Yards per rush: 2.0
Jake Heaps
Record as starter: 2-7, .222
Completion percentage: 49.0
Touchdowns/interceptions: 8/10
Yards per pass attempt: 5.4
Yards per rush: Negative-4.1
Montell Cozart
Record as starter: 1-2, .333
Completion percentage: 36.5
Touchdowns/interceptions: 0/2
Yards per pass attempt: 3.6
Yards per rush: 3.2
More like this story on KUsports.com