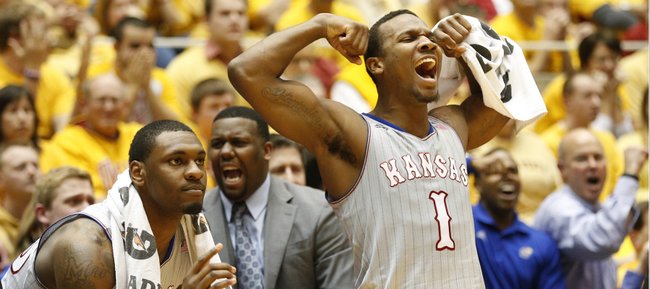 Photo Gallery
Kansas basketball v. Iowa State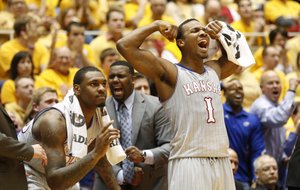 Images from Monday night's game against Iowa State at Hilton Coliseum.
KANSAS 77, IOWA STATE 70
Ames, Iowa — Kansas University freshman guard Wayne Selden on Monday became the fourth Jayhawk newcomer to claim Big 12 Newcomer of the Week honors.
Selden, 6-5 from Roxbury, Mass., who was recognized by a media panel, joins teammates Andrew Wiggins, Joel Embiid and Tarik Black, who have also earned the league's newcomer honor in 2013-14. 
Selden, who also was named Athlon Sports national Freshman of the Week, opened the week with a career-best 24 points, including five 3-pointers, in a 90-83 victory at Oklahoma. Selden added 20 points and four rebounds in a 86-60 win over Kansas State, connecting on seven of 10 shots from the field.  
For the week, Selden shot 59.3 percent (16-of-27) and 53.3 percent (8-of-15) from beyond the arc.  He totaled six rebounds, four assists and two steals.
"I think he's playing to win, not worrying about the things you can't control," KU coach Bill Self said, referring to Selden, in comments leading up to Monday's game versus Iowa State. "You will shoot it better when you do those things. He's been terrific. He's been as good as any player maybe in our league when you talk about just in league play only. Maybe Kane (DeAndre, Iowa State) has been better. Wayne's first two games in league ... he's been pretty impressive."
"We are just feeding off each other which is a good thing," Selden said of the recent play of the Jayhawks.
The four KU newcomers who have been honored this season passes the school's previous high of three different Big 12 Newcomer of the Week selections established in 2005-06 (Brandon Rush, Mario Chalmers and Julian Wright). Iowa State in 2011-12 was the last school to have four different players named Big 12 Newcomer of the Week.
Guard Naadir Tharpe said the freshmen newcomers have a free mind. "I feel like Wayne and Wiggs (Wiggins) now just go out there and play their game, just being loose and having fun. When they play like that, you see what happens," Tharpe said.
Earlier this season sophomore Perry Ellis was named the co-Big 12 Player of the Week on Nov. 18, the same week Wiggins was named newcomer.
Alternate unis: The Jayhawks on Monday for the second straight game wore alternate adidas uniforms. These uniforms were grey. On Saturday against Kansas State, KU wore cream colored alternate uniforms.
The grey uniforms have a white 'Kansas' in circus font, outlined in red, arching across the chest with the jersey number centered below, also in circus font, resembling the 1988 NCAA title team uniform. The grey shorts have a red stripe and a blue stripe at the bottom with a large K on the shorts.
Both sets of alternate uniforms don tonal pinstripes that read: "Pay Heed. The game you love began here. Respect those who came before you. Make their legacy your own. Because destiny favors the dedicated. And rings don't replace work. In this game you don't get what you want. You get what you earn. We are Kansas. Together we rise.  Rock Chalk Jayhawk!"
"We decided in late summer that we would have two more uniforms to wear throughout the year," Self said. "Although a little different in color, both are definitely traditional from the fonts used in past going back several decades. We're excited about it. We'll be rotating the uniforms throughout the rest of the season."
Alexander honored: KU signee Cliff Alexander, a 6-9 senior forward from Chicago's Curie High, has been named Chicago Tribune high school athlete of the month for December. Entering this week's action, Alexander is averaging 27 points, 17 rebounds and five blocked shots per game. He was presented the A.C. Williamson Award for sportsmanship at the recent Pontiac Tournament. The award was voted on by the refs who worked the games.
Road trip: Self was asked on Monday's league teleconference about playing ISU in Ames.
"It will be as good an atmosphere as we had all year," Self said the morning of the game. "Going to Stillwater (Oklahoma State) and Bramlage (K-State) is always tough. Coming here is always tough. I have a way of thinking ... a guy should enjoy it, but also should create more intense focus and a tighter huddle. As good as the crowd is, it's five guys who can stretch it from three-point line that concerns me more than the crowd. Last year's games were epic. I anticipate this year's games being that way, also."
Naadir 'solid': Fred Hoiberg on KU point guard Naadir Tharpe: "Tharpe is a solid player and he is a guy who can make shots. He's a very impressive guard."
More like this story on KUsports.com