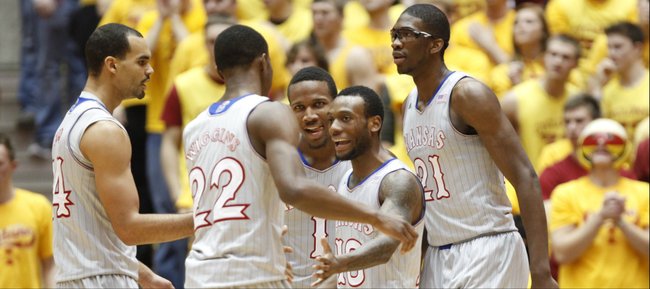 Photo Gallery
Kansas basketball v. Iowa State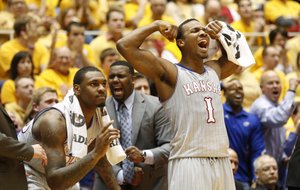 Images from Monday night's game against Iowa State at Hilton Coliseum.
Podcast episode
KU coach Bill Self after Jayhawks' huge 77-70 victory at Iowa State
The Keegan Ratings
KANSAS 77, IOWA STATE 70
Ames, Iowa — All of the talk heading into Monday's Big 12 Conference showdown at Hilton Coliseum centered around the injured left ankle of Iowa State senior DeAndre Kane.
As it turned out, that ankle had very little to do with the outcome of KU's third consecutive Big 12 Conference victory, which came in the form of a 77-70 win over a scrappy Iowa State squad that led just one time all game.
Kane, a 6-foot-4 senior transfer from Marshall, who left last Saturday's loss at Oklahoma via crutches and was unsure whether he would even play against Kansas until sometime Monday, finished with 21 points, eight rebounds, four steals and three assists.
Early in the day, the point guard Tweeted a photo of his ankle in treatment and included the commentary, "ankle feeling good."
After the game, he said he knew for sure that he would play about an hour before tip-off.
"They did a great job these past two days preparing me and getting me ready and I went out there and I played," a dejected Kane said after the loss.
Despite solid all-around numbers, Kane shot just six for 13 during the loss and misfired on eight of 16 trips to the free throw line, including one air ball. As a team, Iowa State shot just 31 percent, including a 4-of-25 showing from three-point range, good for 16 percent.
Asked after the game how much of a negative impact the ankle injury had, Kane, who started, offered up an honest assessment.
"A little bit," he said. "I really couldn't cut and I couldn't play how I wanted to play. But that's no excuse. I played and I played 37 minutes. I didn't do enough to help my team win."
As for whether the Jayhawks could tell if Kane was limited because of the injury, freshman forward Andrew Wiggins, who finished with 17 points and a whopping 19 rebounds, said: "Toward the end of the game, when he fell down, yeah."
That moment came with around four minutes remaining, as Kane appeared to re-injure his ankle leg but he later said it was just a knee to the thigh.
KU coach Bill Self said that incident was big for the Jayhawks down the stretch, because it prevented Kane from driving into the teeth of the Kansas defense with Iowa State needing three-pointers to get back into it.
In the end, whether the looks were clean or not, ISU's off-shooting night proved to be the biggest factor in KU taking an early stranglehold on the Big 12 Conference race.
"It was just one of those nights where we couldn't get anything to fall," Ejim said. "And that's tough when you're a team that relies on shooting the ball. Sometimes you just have to shoot yourselves out of it."
Added ISU coach Fred Hoiberg: "Sometimes you have nights like this in the game of basketball. The best shooters in the world have nights like this."