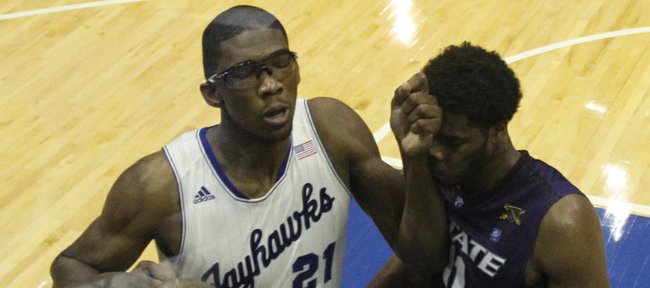 Photo Gallery
Kansas basketball v. Kansas State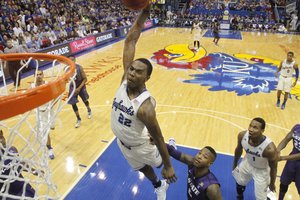 Images from Saturday's Sunflower Showdown game at Allen Fieldhouse.
Podcast episode
Bill Self on KU's 86-60 win over KSU and Monday's showdown with Iowa State
Podcast episode
Naadir Tharpe, Wayne Selden and Andrew Wiggins discuss the latest victory in the KU-K-State rivalry
Wayne Selden stays hot
Kansas University freshman Joel Embiid was tossed out of Saturday's KU-Kansas State game for committing a flagrant-2 foul on the Wildcats' Nino Williams.
It was an elbow from the 7-footer that connected with the 6-5 Williams' face that caused the ejection.
"The officials said he elbowed Nino. They watched it (on monitor), so he did it, I'm sure," KU coach Bill Self said. "Regardless of what took place prior, if there was anything, you have to be tough enough to think, 'next play,' regardless of the situation. That's frustrating to me that would happen even if it was a situation where it was retaliatory. I don't have any idea if it was.
"He (Embiid) can't do that. I think it was a good lesson for Jo and certainly a good lesson for our team to learn from Jo," Self added.
Self was asked what he said to one ref as the ref walked to the monitor. "I told him, 'If he (Embiid) did it, get him out of here.'''
Embiid had to spend the final minutes of the victory in the locker room.
He will be allowed to play in Monday's 8 p.m. contest at Iowa State. A Big 12 official told the Journal-World that if Williams had retaliated and thrown a punch at Embiid, it would have been deemed "fighting" and both players would have had to sit out a game. Embiid would have been cited for instigating a fight and Williams for fighting. 
The way it stands is Embiid definitely will play Monday night with no additional penalty needing to be served.
Milestone reached: KU senior center Tarik Black scored the 1,000th point of his college career, dropping in a hook shot with 7:46 left in the first half.
"I knew I was at 998. It was special to get that 1,000th point," Black said.
Asked if he ever thought he'd hit 1,000 when he signed with Memphis four years ago, the Memphis native said: "I felt confident I would be able to score. Not saying I could hit 1,000 points. I don't think I ever saw that."
No turnovers: KU had zero turnovers the first half. The last time KU had none in a half was against Towson in the second half on Nov. 11, 2011.
"We were smart with the ball, moved the ball," Black said. "The team we have offensively, you don't have to force passes to score. Making easy plays is how you make that happen."
KU coach Self noted: "We obviously took care of the ball against a good defensive team. They took care of the ball too (KU had seven turnovers; KSU 10). I don't know if you remember when we played Oklahoma State Wayne's (Simien) senior year. It was probably the best basketball game, as well as both teams played, maybe in the building. In the first half, both teams combined for two turnovers (in KU's 81-79 win). That's pretty good ballhandling.
"I think that's the most efficient we've played in a while," he added of Saturday's effort.
Naadir Tharpe had nine assists, no turnover in 33 minutes.
"It just shows us being aggressive," Tharpe said. "If we just go out there and play instead of thinking, there is going to be less chance of us making turnovers. Dudes are just going to the hoop and finishing and knocking down shots."
Alternate jerseys: The Jayhawks wore new alternate jerseys on Saturday. The word "Jayhawks" was in script form on the front. KU wore white tops and shorts with blue numbers.
"I like the uniforms. I like them a lot," Tarik Black said. "It's cool how they are off-white instead of pearly white. I don't know if I'm weird (but) that's kind of unique to me. I think we'll see them again."
For more on the alternate jerseys to be worn on occasion check the web address: http://www.kuathletics.com/news/2014/1/11/MBB_0111143541.aspx
Elijah revisited: KU will travel to Iowa State on Monday to meet the Cyclones. KU junior guard Tharpe was asked what he remembered the most about last year's 108-96 overtime win in Ames.
"I mean, Elijah," Tharpe said with a smile.
Elijah Johnson scored 39 points for the Jayhawks in the win.
Iowa State point guard DeAndre Kane suffered a lateral left ankle sprain in Saturday's loss at Oklahoma. X-rays were negative.
"It's hurting bad. It's throbbing. It'll probably swell up on the plane ride back home. They said everything was negative, (but) it's pretty bad right now," Kane told the Des Moines Register. He had 23 points, nine rebounds and four assists vs. OU. He was on crutches after the game.
Goggles clear: KU's Embiid wore a different pair of goggles on Saturday than he wore Wednesday at Oklahoma.
"He has those new goggles. He likes his new goggles more," Self said. "That was important to me to know he actually likes his goggles. It was easier for him to see. I didn't think he saw very well in Norman."
Embiid was 1-for-2 from three-point land, sinking his first collegiate three.
"Nice. It was good. It went in. I thought it was great," Self said with a smile in discussing the first-half three that dropped.
Embiid said this on Twitter on Saturday night: "Don't mess with #KUCMB!!! This is our state ....."
Faces in crowd: Actor Rob Riggle, former KU football players Tanner Hawkinson, Anthony Collins and Todd Reesing, former KU basketball player Moulaye Niang.
Stats, facts: KU won its eighth straight home conference opener and 30th league home opener in 31 tries. ... KU is 2-0 in the Big 12 for the 10th time in the 11-year Bill Self era. ... KU has won six straight over KSU. ... Self is 23-3 vs. KSU. ... The 26-point margin of victory was most against K-State since KU won by 27 (97-70) on Feb. 7, 2007 in Allen ...  KU hit  8-of-18 (44.4 percent) threes. ... KSU was 1-of-11. It was worst three-point shooting by a KU foe since Texas Tech made 1-of-15 on March 4, 2013. ... Andrew Wiggins (22) and Wayne Selden (20) marked the fourth different game that multiple Jayhawks have scored 20 or more points (vs. Duke; vs. Toledo; vs. Oklahoma). .... KU led 15-12 with 11:28 left in the first half before going on a 16-3 run over the next 4:40.  ... Embiid had a game-high nine rebounds and chipped in 11 points before his ejection. ... Tharpe had a game-high nine assists. It was the third time he chipped in nine or more assists this season with a season-best 10 coming against Iona (11/19/13).
More like this story on KUsports.com