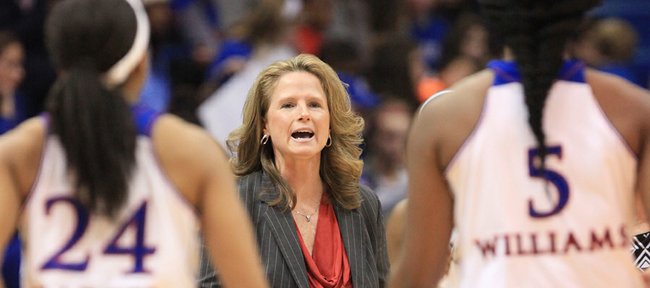 Some losses are more troubling than others. Trust Kansas University women's basketball coach Bonnie Henrickson. She knows.
Her Jayhawks (7-8 overall, 0-3 Big 12) blew chances to nab their first Big 12 win of the season and stay above .500 when they surrendered an 11-point lead, with less than six minutes left, Wednesday night in a 52-50 loss at TCU.
"To start off in league play 0-3, and then how it happened," Henrickson said, "we offensively, obviously, were not very good."
The Jayhawks hope to get over the disappointment of giving a game away tonight, when they play host to Texas Tech (6-8, 0-3) at 7 at Allen Fieldhouse.
Considering KU already had played in tight games this season, the program's 10th-year coach thought her players would seize the victory that was easily within their grasps in the mid-week road game at TCU.
"We played not to lose," Henrickson said. "I'd like to tell you I've never seen that before, but it's been a long time since I've seen one of epic proportion, like that."
The coach said the Jayhawks lacked confidence and aggression on both ends in their latest of three straight losses.
As two of the Big 12's winless teams in conference play (the other is Kansas State), either KU or Texas Tech has a chance to emerge from the darkest depths of the standings by the end of the day. With conference wins being such a valuable commodity, Henrickson said she and the players have done enough talking about what it will take to earn one, and now is the time to produce. This game against Texas Tech, the coach added, feels like the most important one on the schedule, given the circumstances.
"We have got to take pride in how we play, and the responsibility we have, as an individual, to do my job," Henrickson said. "Everyone's job description is a little bit different. There are things that have commonality: compete, be tough, focus and concentrate. But in there, there are different job descriptions. If your job is to drive the ball in the paint and get the zone to collapse, then that's our expectation. If your job is to get a one-on-one matchup inside and finish … not everybody has that job, but we have commonality in our jobs. We've gotta embrace that and have the maturity to understand that's important."
KU junior forward Chelsea Gardner, who leads the team with averages of 15.9 points, 7.8 rebounds and 1.78 blocks, is averaging three blocks a game in conference play, thus far. Her two blocked shots at TCU moved her into 10th place on KU's all-time blocks list, with 91.
Kansas has won two of its last four games against Texas Tech, but the Red Raiders have a 7-3 record at Allen Fieldhouse.
---
Probable starters
Kansas (7-8 overall, 0-3 Big 12)
G — Asia Boyd, 6-1, jr.
G — CeCe Harper, 5-8, sr.
G — Natalie Knight, 5-7, jr.
F — Jada Brown, 6-0, fr.
F — Chelsea Gardner, 6-3, jr.
Texas Tech (6-8, 0-3)
G — Marina Lizarazu, 5-8, fr.
G — Minta Spears, 5-10, fr.
G — Amber Battle, 5-9, jr.
G — Audrisa Harrison, 5-10, jr.
F/C — Shauntal Nobles, 6-3, sr.