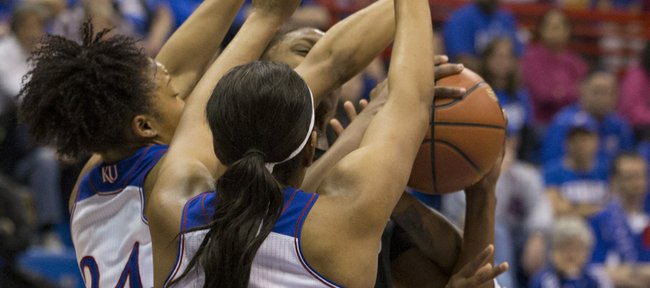 Document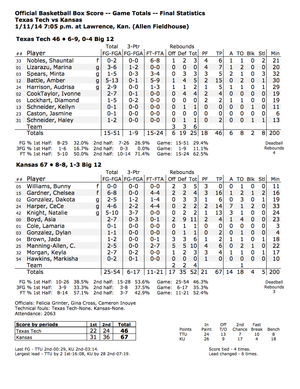 For its psyche, for its postseason livelihood, for the sake of finally earning a Big 12 victory, Kansas University's women's basketball team needed this one.
The Jayhawks dominated the glass and the scoreboard most of Saturday night at Allen Fieldhouse to beat Texas Tech, 67-46.
"(It was) huge to get a little run and get a little momentum and some confidence and feel better about ourselves," KU coach Bonnie Henrickson said after her team bounced back from a disappointing two-point loss three nights earlier at TCU. "It was kind of a cloud hanging over our heads here for a little while."
To snap a three-game losing streak, the Jayhawks (8-8 overall, 1-3 Big 12) did most of the things Henrickson always talks about, including maintaining and building a lead, securing defensive rebounds and other intangibles.
"I'm really excited we did that," the 10th-year coach said.
The Jayhawks held a 52-25 advantage on the glass. KU's two biggest contributors to that margin came from the bench: Junior guard Asia Boyd snagged 11, and freshman forward Caelynn Manning-Allen pulled down 10. Six players had at least four boards, and junior point guard Natalie Knight praised her teammates for their efforts.
"Rebounding is something that we've talked a lot for a long time," the 5-foot-7 team leader said. "We've had our ups and downs. We know that in order to win you have to rebound well, and we wanted to win tonight and needed to win tonight."
Although junior forward Chelsea Gardner played just 16 minutes, she led Kansas with 16 points on 6-for-8 shooting, while guards CeCe Harper (14) and Knight (13) carried most of the load.
Harper, who made four of her six shot attempts, said the Jayhawks had to take on a different identity against the Red Raiders (6-9, 0-4) when Gardner left the court, and she said it was up to her and Knight to set the tone so KU's lead didn't shrink.
"When she's out of the game, it's more guard-oriented," Harper, a 5-8 senior, said. "When she's off, we just try to run the same plays and get different looks."
Even though Gardner (two fouls) went to the bench for more than nine minutes of the first half, KU took a 31-22 lead into halftime after holding Texas Tech to 8-for-25 shooting (32 percent) and destroying the Red Raiders on the glass, 28-12. Boyd's six boards led Kansas at that juncture.
A pair of Knight three-pointers and a pull-up baseline jumper (giving her eight points) in the first half, Harper's seven first-half points, as well as 12 more from Gardner in just 10 minutes, helped offset KU's 10-for-26 (38.5 percent) shooting in the first 20 minutes.
Knight said those around her in the program have been on her to play more assertively.
"I want to help the team in any way I can, and that's the way I needed to step up," Knight said after scoring in double figures for the sixth time in eight games. "The coaches have continued to tell me to do that, so I want to step into that role more."
According to Henrickson, Knight now does a better job of putting herself in position to score on jumpers or off the dribble.
"Her little mojo is pretty good right now," the coach said of her point guard.
Gardner, who had matched Texas Tech's scoring by herself at the 9:30 mark of the first half, left the game to stay out of foul trouble with 12 points and three rebounds and KU up, 19-12.
Prior to the drubbing of Texas Tech, the only teams Kansas had defeated by more than 16 points this season were Oral Roberts and Texas Southern.
Harper said the Jayhawks knew getting their first Big 12 victory out of the way could be a step in the right direction.
"Of course we started 0-3 (in league games), and we knew this was one we had to get and we could get," Harper said. "We came out with a lot of intensity."
Kansas will play at Texas at 7 p.m. on Wednesday.
Goodrich returns
Former Jayhawk Angel Goodrich, now with the WNBA's Tulsa Shock, received a huge ovation from the Allen Fieldhouse crowd in the second half. The former Jayhawks point guard led KU to back-to-back Sweet 16 appearances in 2012 and 2013 and accumulated 1,262 points and 771 assists during her four seasons in Lawrence.
More like this story on KUsports.com