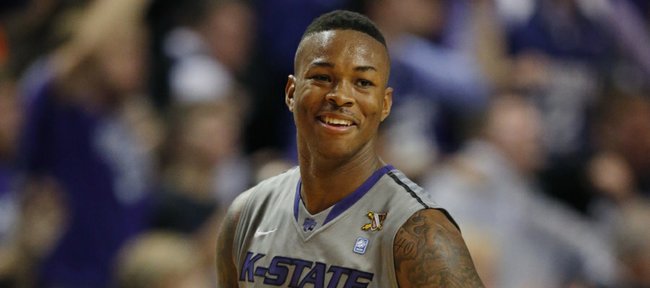 Kansas University basketball coach Bill Self briefly addressed the KU-Kansas State rivalry — the Sunflower Showdown — at practice on Thursday.
"The key thing is we have to look at the teams before us and how they competed and how we beat them and really just go out and play to the best of our ability," sophomore Perry Ellis said of Self's message concerning a series in which KU has won 47 of the last 50 meetings entering today's 1 p.m. contest in Allen Fieldhouse.
"Playing Kansas basketball is the main thing he's talking about, just the tradition and things like that," Ellis added.
Self, who has led KU to a 21-3 mark against the Wildcats through his first 10 seasons as Jayhawk coach, said more discussion of the series would be on tap for Friday.
His words would not be for players such as Wichita natives Ellis and Conner Frankamp, who know all about the series, but for many of the Jayhawk newcomers.
"Kids from outside the area, freshmen from outside the area, they don't grow up thinking 'KU vs. K-State' and all that stuff," Self said of players such as Canada's Andrew Wiggins, Cameroon's Joel Embiid and Massachusetts's Wayne Selden, to name a few.
"Whatever teams are rivals in the region that people grow up in, that will be who they follow. That's not in any way, shape or form a knock on anybody. But we'll talk a lot," Self added before Friday's practice.
Self will not only discuss the past — KU is 186-91 all-time versus KSU and 43-18 all-time versus the 'Cats at Allen — but the present. The No. 25-ranked Wildcats, who tied No. 18-ranked KU for the Big 12 regular-season title a year ago, enter 2-0 in the Big 12 and 12-3 overall. KU is 10-4, 1-0.
"They're guarding," Self said of Bruce Weber's Wildcats, who lead the Big 12 in fewest points allowed (58.0 off 39.2 percent shooting) and three-point-field-goal-percentage defense (25.1). "Guys seem to really understand their roles, and certainly their freshmen now have played enough minutes that they're more seasoned and have been more effective. They're playing extremely hard, and they are off to a good start. There's no question, they're playing with a ton of confidence."
Freshman guard Marcus Foster leads KSU in scoring at 14.1 points per game. Freshman forward Wesley Iwundu, who also starts, contributes 7.0 points and 4.4 boards. Other starters are seniors Shane Southwell (10.8 ppg) and Will Spradling (6.9 ppg, 3.3 rpg) plus junior Thomas Gipson (11.9 ppg, 6.5 rpg). Jevon Thomas, a freshman guard from Queens, N.Y., who became eligible on Dec. 21, has 17 assists, four turnovers in four games.
Foster has been one of the top newcomers in the league at this early juncture.
"He's hungry. The kid is thirsty. He wants to score," Self said of the 6-2 freshman from Wichita Falls, Texas. "He's aggressive on how he goes about getting his shot. He knows where the shots are coming from, and he's prepared to score. He's a guy that will be an all-league-type player. Eventually, I think he's got a chance to be terrific."
He's already been compared to former KSU great Mitch Richmond.
"Well, he's younger," Self said, smiling. "When Mitch got to K-State, Mitch was one of the baddest boys in the country. Mitch was an Olympian and an NBA All-Star. At the same stage, they're comparing Joel (Embiid) to (Hakeem) Olajuwon, and you're talking about a Hall of Famer. When you're young and you haven't had a chance to really become what you're going to be, I think there are a lot of times there are comparisons made like that, which is probably fairly accurate."
The red-hot Wildcats enter having won 10 straight games. KU also is feeling confident following Wednesday's 90-83 league-opening victory over Oklahoma in Norman.
"It gives us a lot of bounce," said Ellis, who scored 22 versus the Sooners. "It was great for Wayne (Selden, 24 points), too. We've been telling Wayne to keep competing and going hard. He finally had a nice breakout game. His confidence is up. It was great for him. I feel we'll keep pushing and working."
Second-year KSU coach Weber, whose first Wildcat team went 0-3 versus KU, realizes today's game will be a stern test. KSU has already beaten an elite league team in Oklahoma State, 74-71, in the Big 12 opener on Jan. 4 in Manhattan.
"It is different than last year in that they had so much experience," Weber said of the Jayhawks. "They had pretty talented guys, but the main thing was their experience, their defensive mind-set, their toughness and their belief that they were the champions and nobody was beating them. This year, you have a lot of talent, probably three NBA first-round picks at least, on the roster. Last year, they had two guys (Withey and McLemore) in the NBA, and I do not know if there was anyone else.
"It is not always who you are playing, but when you are playing them. Obviously when we went there (for 83-62 loss last Feb. 11 in Allen), we were not playing them at a good time. They had lost three in a row and did not want us to get another on them, so we caught their best shot.
"They are beatable, but they are very, very talented. We are going to have to play a really good game. It takes discipline and it takes execution. They are going to block shots. They are going to dunk on you and they are going to make good plays. It is like Oklahoma State, you have to keep playing. You cannot just stand there and freeze because they dunked on you. You have to go make the next play and take it to them and see if you can get to the hoop. It is going to be a tough game, but we will learn a lot about our guys by 3 o'clock Saturday," Weber added.
More like this story on KUsports.com