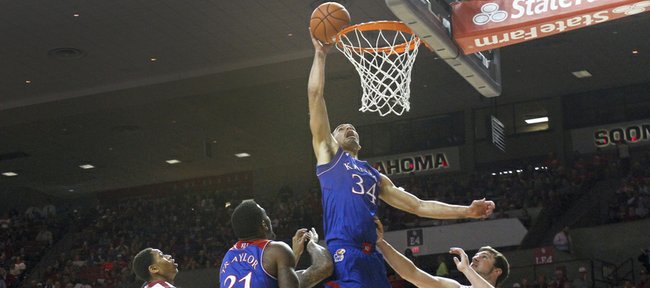 Sometimes, the smoother the basketball player, the more you want to see out of him, the more you suspect the pedal isn't all the way to the metal. Perry Ellis takes eight shots from the field and comes away with 22 points and 11 rebounds in Wednesday night's victory at Oklahoma, and our greed kicks in: How many could he have scored if he took 15 shots? It's a natural reaction.
Steven Young, coach of the Wichita-based "Pray and Play Players" AAU basketball program, said he has worked with Ellis on his game "since he was 5 or 6 years old." Ellis, Young said, always has been a "low-volume, high-production," basketball player. By "low volume," Young meant the amount of shots. He just as easily could have meant the intensity of sound because physically and verbally the noise Ellis generates is of the background variety.
Ellis did all Young asked of him as a basketball student, and still the sports fan in the mentor wanted to see more. Young's imagination couldn't shake the prospect of watching Ellis bursting out of the starting blocks flanked by much shorter sprinters, no basketball in sight, burning ahead of the pack toward the tape extending across the track.
"I always believed he could have won the state title in the 100 and 200 if he put some effort into it," Young said. "He always was one of the fastest people around, even in high school, but he never would go out and run and show everybody."
Doing it always has interested Ellis more than showing other people how well he does it. Besides, track and field didn't interest him. He locked in on basketball exclusively about the age of 8, Young said. And when Ellis locks in on something, he stays at it until he gets it right. He was the same way in the classroom and became one of his high school's four valedictorians.
Young, a coach who has mentored so many young athletes through the years in Wichita, said he knew he had a good pupil immediately.
"He made sure he did all of his fundamentals from Day 1," Young said. "We always worked on the footwork to make sure it was correct: Facing up to the basket, shooting the ball, knowing how to seal. He was always very meticulous as a little kid, just a pleaser, a rules kid, always wanting to follow the rules. If we ran sets, he'd know where he was supposed to be and was always doing it correctly."
To watch Ellis play basketball so efficiently when KU has the ball can make the mind wander to San Antonio Spurs superstar Tim Duncan, minus three inches. If Duncan is "The Big Fundamental," Ellis has the makings of "The Little Fundamental."
Watching Ellis, you seldom find yourself asking, "Why did he take that shot?" Or: "Wouldn't driving, instead of shooting it there, have been the right call?" Or: "What was the purpose of dribbling there?" Ellis tends to pull out of his belt the appropriate tool to accomplish the task at hand and taps the hammer with more force than the sound it generates would indicate. Not many defenders his size can follow him to the perimeter and play close to him because he has the quicker step, plus a terrific, ambidextrous handle that keeps the defender guessing.
"Fifteen feet, open floor, left or right, so many different options," Ellis said. "I would say that's where I feel most comfortable."
Said Young: "He's a comfort guy. The more comfortable he gets, the more he's going to improve. When he's comfortable, the game's pretty easy for him. The less thinking he has to do and the more reacting, just being strong and fast, makes him more athletic, and that's when he really shows how athletic he is."
With such quiet body language, such fluid, efficient body movement, fully appreciating just how fast Ellis runs, how high he leaps, requires watching him more closely than some with a louder presence, a more highlight-friendly style.
"People don't realize how athletic he can be," Young said. "The more you watch, the more you see what he can do. He jumps high enough to get it done. No matter who he goes against, he can always go up another gear. That's the way he's always been. I've seen him dunk in somebody's face and just turn around and run down the court."
It's part of what makes Ellis so popular with the Kansas basketball fan base, which tends to favor the understated player over the flashy one. Again, Young sees Ellis play, likes what he sees, and wants to see more. He still regularly talks with Ellis and shares thoughts on how a good man and good player can become a better man and better player.
"You want to see him get more emotional, but that's the way he's always been," Young said of Ellis, whose expression seldom reveals what just happened on the floor. "Just doing the job and doing it right. You want to see him have some form of emotion sometimes during the game because sometimes that energizes the other people on the floor."
Young summed up his former pupil and forever-friend as, "just a good person, with good Christian values. We always say, 'Be a better person and then be a better player.' That's always been our mission."
As Ellis' comfort level improves, so too does the rate of his improvement. A finesse player at heart, he was uncomfortable with the football-without-the-helmet side of college basketball for much of his freshman season. Defensively, he said, his focus was on "not messing up," instead of "playing freely."
"It was a tough transition," Ellis said "You have to be a lot more physical than in high school. Eventually it came along, but it definitely was a transition."
His game has plenty of room for expansion in other areas as well. He tends to get out to three-point shooters a little late, still is too easy to shoot over inside, although getting better there, and he could play the passing lanes with better anticipation.
Offensively, extending his range to behind the three-point semicircle is on its way, but Ellis errs on the side of caution in expanding his game, tends not to get ahead of himself, likes to get things down pat first.
"I'm easing into it a little bit," he said of shooting threes. "I'm not forcing it. Maybe as I get more comfortable, I'll shoot more of them." He has made three of seven threes and ranks second among Jayhawks in scoring (13.8) to Andrew Wiggins (15.3), second in rebounding (6.9) to Joel Embiid (7.2).
A 6-foot-8, 225-pound sophomore forward who led his Wichita Heights High basketball team to four state titles, Ellis has made a prophet out of his college coach, who started recruiting him the summer after his eighth-grade year.
"Fans are going to fall in love with him because he's so responsible, disciplined, great student, just a great ambassador for any program," 11th-year KU coach Bill Self said on the day Ellis signed with Kansas.
Anybody think that prediction has in any way fallen short?
While waiting for somebody to answer in the affirmative, listen closely for a silence that echoes from Lawrence to Wichita and back.