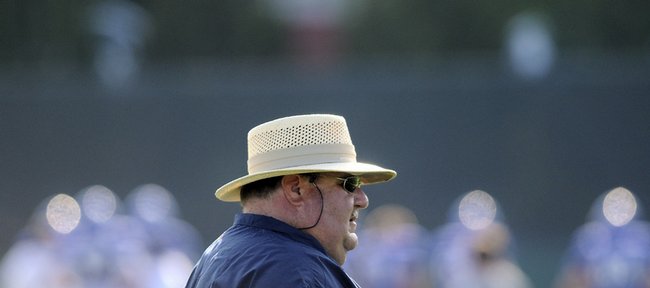 Locate that calendar on your desk or refrigerator, in your pocket or computer. Circle the date Nov. 8, 2014. It marks the day Mark Mangino returns to the stadium that the vast majority of Kansas University football fans wish he never had left.
Don't expect Mangino to do the same with his calendar.
Hours after Iowa State announced that head football coach Paul Rhoads officially had welcomed Mangino onto his staff as offensive coordinator, the former KU head coach returned my message. As he talked, it became evident he was holding a phone in one hand to explain his move back to the Big 12, a saw in the other, steadily moving it back and forth.
"This is my fourth Big 12 Conference school," Mangino said, his words sending saw dust floating to the floor. "I can't have a big game every week, so I treat them all the same. Every game is a must-win game in college football.
"I feel privileged to now serve at my fourth Big 12 university. I'm the same every week, no matter what the game is or who the opponent is. I'm just not going to put too much into that. It's our players against their players, just like every week."
Three of the four coordinators in the Nov. 8 game — KU's OC John Reagan and DC Clint Bowen — worked for the Jayhawks' football program when it won 28 times in a 35-game stretch.
Since Mangino was forced out by former KU athletic director Lew Perkins with a $3 million parachute, Kansas has gone 9-39.
Perkins' hire, Turner Gill, went 5-19 in two seasons and was fired with three years and $6 million remaining on his contract by Sheahon Zenger, whose hire, Charlie Weis, has gone 4-20, two years into a five-year, $12.5 million deal.
"I think it's good that guys who have been on my staff there now have come back," Mangino said of Bowen and Reagan, brought back to KU by Weis two years apart. "I think it's good for them, and I think it just validates we were on the right track the whole time that we were there."
He said he thoroughly enjoyed his year at Youngstown State, where he served as assistant coach to Eric Wolford, but couldn't turn down "the opportunity to get back in the Big 12 Conference."
Mangino worked under Bill Snyder at Kansas State and Bob Stoops at Oklahoma before coming to KU.
"I have a lot of respect for Iowa State," Mangino said. "I've always thought they did things the right way there. They've had some really solid success there under Dan McCarney and under Paul. Their football program has a reputation for having very hard-nosed, tough kids. I've always admired that about the program throughout my years in the Big 12. They're tough customers."
They just grew a little tougher, the Nov. 8 game in Memorial Stadium a lot more interesting.