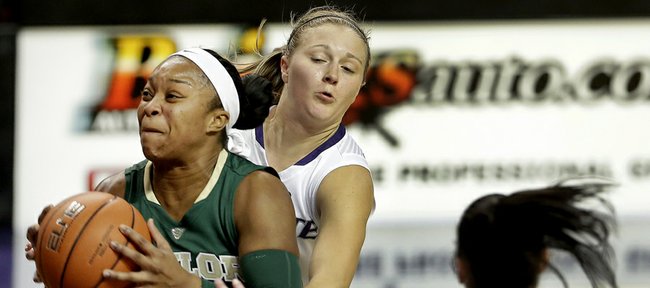 Brittney Griner may be gone from Baylor, but members of the Kansas University women's basketball team don't think today's 3 p.m. game against the No. 9 Bears in Waco, Texas, will be anything but a dogfight.
That's largely because of senior forward Odyssey Sims, Griner's former teammate who has shown she can handle being Baylor's top player.
"She's been the second best player in the country, but she had a player on her team that got a lot of shine," KU coach Bonnie Henrickson said. "Now she's making the most of her time to shine."
Sims scored 40 in Baylor's Big 12 opener last week, a 92-63 victory over Kansas State, and enters today averaging 31 points per game. She figures to be a handful for the Jayhawks (7-6), who enter their first conference road game of the season on the heels of a home loss to West Virginia in their Big 12 opener.
"You can't really defend her one-on-one," KU junior Natalie Knight said of Sims. "It's gotta be a team effort. I know coach Bonnie and the rest of the staff will have a plan and we just have to implement that to the best of our ability."
Henrickson went one step further: "There's nobody in our league that can guard that kid one-on-one. You just can't do that with her. She's got other pieces, too, but, obviously, she's the focal point. She's the head of the monster."
Baylor (11-1) has won seven straight over the Jayhawks and is averaging 99 points per game and leading the country with a 34.5-point average margin of victory.
For the Jayhawks, the focal point of the past few days has been the idea of bouncing back from a contest they let get away. Leading WVU by five points midway through the second half on Thursday, KU went scoreless for more than eight minutes and watched the Mountaineers take control of the game and cruise to victory.
Henrickson said she hoped her young Jayhawks could put the WVU loss behind them quick enough to get ready for the Bears.
"Those of us who have been in this long enough, it's a bounce-back," she said. "We can't feel sorry for ourselves. We ought to just be even more upset and hungry to win. In this league, you can't be excited too long or upset too long."
Asked if that might be a greater challenge given the presence of so many players going through the Big 12 grind for the first time, Henrickson said it might be just the opposite.
"Sometimes freshmen are pretty resilient," she said. "I'd be shocked if they didn't have some pop to get ready to play Baylor. That's what I love about them, their competitiveness as a group. I think they'll be OK."
More like this story on KUsports.com