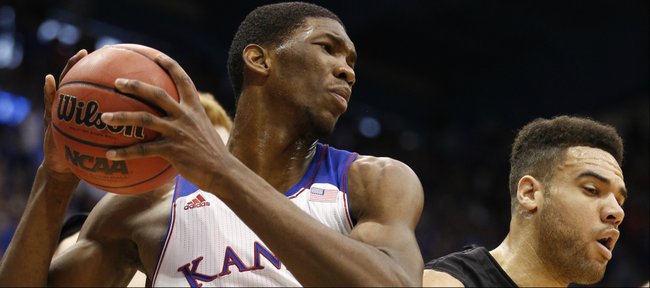 It looked so much like countless other games played in Allen Fieldhouse during the Bill Self era.
The players from the better team defended the paint as if their lives depended on it. Their long, springy bodies trapped the post with such conviction.
They made easy shots for the opponent so difficult to come by that when they arrived, the minds of the shooters weren't ready for them, so they hurried.
At the other end, the better team executed a not-always-pretty inside-out job longer on substance than style.
The better team won the battle of the boards and had clutch responses to runs from the guys trying to catch up.
The better squad banked on an experienced, savvy, talented guard to make big plays.
What set this one apart from so many others, of course, was that the guys wearing enemy colors formed the better team.
An argument could be made that come March, Kansas will have improved at a faster pace than San Diego State, but the Aztecs left no question as to which team is playing better basketball in January.
The rankings and the oddsmakers' lines suggest that San Diego State's 61-57 Sunday afternoon victory against Kansas counts as an upset. Nothing about it felt that way.
KU's three leading scorers on the afternoon — Frank Mason and Andrew Wiggins with 14 apiece, Joel Embiid with 12 — were freshmen and 115 minutes were played by frosh, compared to nine minutes for the Aztecs (12-1), whose only loss came at the hands of No. 1 Arizona.
KU's abysmal shooting numbers (.298) were more a product of San Diego State's defense, and to a smaller extent poor shot selection, than the Jayhawks seemed to realize afterward.
"We all missed shots that we usually make, and that can happen from time to time with a young team," Wiggins said.
And it happens just about all the time to San Diego State opponents.
Josh Davis, a 6-foot-8, a fifth-year senior who used the same rule to transfer from Tulane that Tarik Black used to come to Kansas, did a nice job of guarding Wiggins and contributed 10 points and 14 rebounds to the winning effort.
Wiggins made 4 of 14 shots.
"He didn't really affect me," Wiggins said. "I just think I missed shots that I usually make."
Defensive juggernauts such as San Diego State tend to leave opposing players thinking that way, but it was no coincidence that each KU player, except Embiid and Mason, missed more shots than he made.
Self faces a different challenge with this bunch than most because of its inexperience, coupled with a basketball slate that's the equivalent of an academic schedule packed with a variety of calculus classes taught in Chinese one day, Russian the next.
Will it make or break the young Jayhawks, who haven't yet mastered the art of winning close ones?
The last easy foe Kansas faced was Towson on Nov. 22 in Allen Fieldhouse.
This week's challenge, at Oklahoma on Wednesday and at home Saturday against Kansas State, is followed by three consecutive games against Big 12 schools ranked in the top 13 in the nation.
The Sooners (12-2) aren't ranked, but are coming off a road victory against Texas and have the most improved player in the Big 12, senior Cameron Clark.
In 2006, Self won a share of the Big 12 regular-season title and won the conference tournament, starting three freshmen. If he does it again, it will be a tremendous achievement. It's a realistic goal, yet far from a sure thing.