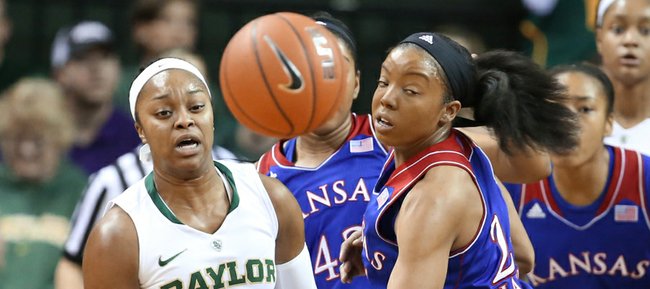 Document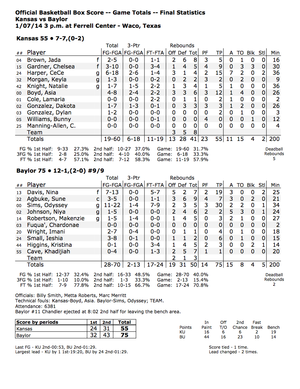 Waco, Texas — Odyssey Sims scored 30 points while matching the Baylor record for career 3-pointers and the No. 9 Lady Bears stretched their home winning streak to 68 games with a 75-55 win over Kansas on Sunday.
All of those home wins span the career of Sims, the All-American senior point guard. The Lady Bears (12-1, 2-0 Big 12) have also won 42 consecutive conference games, and the conference streak is 51 in a row when including their three consecutive league tournament championships.
Freshman Nina Davis had 19 points and seven rebounds for Baylor.
CeCe Harper led Kansas (7-7, 0-2) with 15 points and seven assists, while Asia Boyd had 12 points.
The game was marred late when Kansas freshman guard Keyla Morgan had a seizure and was down face-first on the floor after shooting a ball with 1:18 left in the game. Morgan was tended to for several minutes, at one point wildly kicking both legs, before being put on a stretcher and taken off the court.
Morgan had multiple seizures while in high school in California, but Kansas coach Bonnie Henrickson said it is the first time Morgan has had any such issues with the Jayhawks.
"It's scary for all of us," Henrickson said. "At least I get to be out there and I can hear her talk, see that she's squeezing her hands and she can move her toes a little bit. ... She's in a great place for medical care and they'll evaluate her at the hospital, and we'll just wait to hear if we can take her home tonight."
Morgan collided into the shoulder of a teammate after taking a shot.
While Morgan was being tended to, Baylor players went over to the Kansas bench and joined Jayhawks players for a prayer.
Sims, the national scoring leader with 30 points a game, responded with some big plays after a couple of frustrating moments in the first half.
Kansas was within 17-15 when Harper had a steal and a breakaway layup after stealing a pass intended for Sims. But Sims ended the mini-run by the Jayhawks with a tough layup.
Sims, whose 195th 3-pointer earlier had matched the Baylor record, missed two in a row from long range in one short stretch. She was clearly frustrated after the second shot ricocheted off the rim, but then responded by scoring seven straight points.
After passing up an open 3, Sims stepped in a gap between defenders and drove into the lane for a short jumper. She had a floater, and then drove in the lane and was in the air when she made contact with a defender. That shot also went in, a foul was called and Sims added the free throw to make it 27-15, giving the Lady Bears their largest lead before halftime.
Baylor had a 58-36 lead after Sune Agbuke's three-point play with 9:37 left in the game. With her back to the basket in the lane surrounded by defenders, Agbuke threw the ball over her shoulder while being fouled, and it went in the basket.
The closest Kansas got after that was 59-46 with about 8 minutes left when Natalie Knight made two free throws on a sequence when double technical fouls were called against Sims and Boyd while the two were together on the floor going after the ball. There was also another technical foul against Baylor, putting Knight at the line.
Sims had a breakaway layup a minute later after a steal by Davis.
Ieshia Small's jumper with 11:41 left in the first half made it 17-10 before Baylor had touch stretch of more than 3 minutes. The Lady Bears missed five shots and had three turnovers — two by Niya Johnson and the one by Makenzie Robertson on the pass intended for Sims.