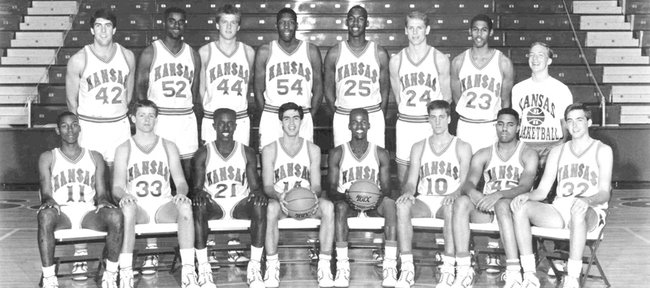 Kansas University's basketball players — who according to coach Bill Self, "went really hard," in the practice gym Thursday morning — were brought back for what figured to be a strenuous two-a-day session a few hours later.
Instead ...
"We surprised them. We gathered our team together and watched the documentary, 'Miracles,'" Self said of the movie, "The Miracles: The 1988 Kansas Jayhawks," which chronicles All-American Danny Manning's leading KU to the 1988 national title.
"If you've not watched it, go watch it. It's great," Self added, speaking Thursday on his "Hawk Talk" radio show. "The whole team watched it. They were enamored.
"You don't know how good guys are until you start hearing other people talk about them. These kids weren't born (at the time of the title) or anything like that. It was cool," Self added of the viewing.
Manning, currently the head coach at Tulsa University, played in two Final Fours in his four-year KU career.
"Danny has been through some ups and downs, too," Self said. "We lost the Big Eight championship when Nebraska beat us at Nebraska (83-81) during Danny's junior year (1986-87).
"Coach (Larry) Brown in a time out said (to Manning), 'We're going to throw the ball into you. Don't get cute. They are going to trap you. Be strong.'
"Danny caught it, went behind his back and they stole the ball. Brian Carr made a shot and they (Jayhawks) ended up losing. We were playing at Nebraska (when Manning was on Self's staff) and some fan yelled, 'Danny Manning ... we took the ball from you right here.' They remembered the exact spot.
"Danny usually gets the last laugh on most people," Self said.
KU freshman big man Joel Embiid was impressed enough Thursday night to tweet to his 17,058 followers that he'd "just watched 'Danny and the Miracles.'"
As far as what's been happening on the court during the first of several practices between semesters, Self said: "Whatever you are going to try to get in, you probably want to get in over the next couple weeks. We've put in one or two (new) things. We've not put in a lot of stuff. We've got more stuff in than what we run.
"We have to remember how we run it when it's game time. We've sprinkled in a couple new things. We have enough stuff in. The big thing is I'd like to get better at what we do."
The No. 16-ranked Jayhawks (9-3) will meet No. 21 San Diego State (11-1) at 3:30 p.m., Sunday, in Allen Fieldhouse.
The draft: Self was asked on Hawk Talk if he would ever "encourage" freshman sensation Joel Embiid to return for his sophomore season.
"Joel could go anywhere this year from 1 to 5 probably (in the 2014 Draft), I would say," Self said. "It would be hard for a staff member or myself to say, 'Hey it's best for you to come back.' It's really probably best for us if he comes back," the coach added with a laugh.
"Jo is a little different now," Self quickly added. "He is a young man who is very, very young, not just in basketball experience (starting in the sport at age 15), but in worldly experience. Just coming to the States (from Cameroon) ... he is trying to figure it all out.
"I talked to him the other day. He said, 'Well, shouldn't I learn how to drive a car first?' He can get a nice car, but he probably can get somebody to drive him so he doesn't have to worry about that (in NBA)."
Self said it's simply too early to tell whether Embiid will be a one-and-done.
"I'd say everybody on the outside would say he's probably definitely going to go because everybody who could go that high goes," Self said. "But the reality of it is, I don't feel that way at all. I feel he should do what is best for he and his life.
"The thing that is a little bit confusing is everybody comes from a little bit of a different economic background. There are some families you could never risk that (not going). There's some like Joel who comes from a fairly affluent family. That is the reason why a lot of people leave, for the dollar. That won't be why Joel leaves. He'll leave because he's ready. He has a long way to go to be where he can potentially be so he has the greatest career. I'm a big believer in that.
"He will make a lot of money if he comes out this year; but I would hope he is prepared to have the best career he possibly can, not just go for the check."
Self said somebody told him this week, "of the last 15 No. 11 picks in the NBA draft, seven of them didn't get a second contract. Just because you are a lottery pick doesn't guarantee anything. It guarantees you three to four years, then you've got to produce. I think Jo will make a great decision. If it is leaving after this year we'll certainly support that. He'll make a great decision, one that is best for his life."
Orr to be missed: Self has been saddened by the death of former Iowa State coach Johnny Orr: "Johnny was as good a guy as there was and he'll be missed by many," said Self, who got to know Orr when Self was an assistant at Oklahoma State.
"We had a clinic in Stillwater and coach Orr spoke at it. I was chauffeur to go get people. There was a flood in Oklahoma which washed out a bridge we had to cross in order to get back to the airport. I had a car ... if you got over 50, the wheel was shaking. There was no power steering.
"I was in charge of getting him back. When the bridge washed out, we had to take a detour. Back then you didn't have cell phones to figure out where you were going. I went through Kingfisher and other towns to try to get to the airport. I didn't know where I was going but I knew I was going 90 mph in that thing. I did everything I could to keep it on the road. Coach Orr said, 'Self, you S.O.B., I better not miss that flight.' Coach Orr was colorful. He was one of the best cussers. When he did it, it was not offensive. Everybody thought, 'That's Johnny.'
"At Iowa State, he'd come out and they'd play 'Here's Johnny' off the Tonight Show (with Johnny Carson). It was like, 'I'm here now. Everybody can relax.' He put on a show for the fans. He was one of the greats. He'll really be missed."