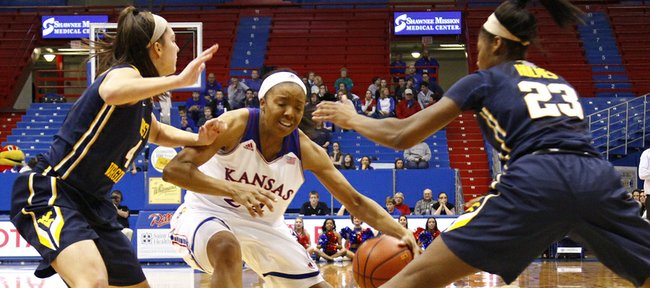 It's hard to say whether giving up 23 offensive rebounds or being held scoreless for 8:14 of the second half was more to blame for the Kansas University women's basketball team's 65-55 loss to West Virginia, Thursday at Allen Fieldhouse.
Pinpointing which was more frustrating for the Jayhawks was a much easier exercise.
"I just think it's giving up all the offensive rebounds," KU coach Bonnie Henrickson said. "It just sucks the life out of you, and they're standing at the free-throw line catching their breath."
During a 16-0 stretch in which the Mountaineers (12-1 overall, 1-0 Big 12) erased a five-point deficit and built an 11-point lead, the Jayhawks (7-6, 0-1) gave up multiple offensive rebounds — sometimes on the same possession.
"It's a killer because you're not getting those possessions back on offense where you could be trying to close the margin of the score," said KU junior Natalie Knight, who led all scorers with 15 points in the teams' Big 12 opener. "It's definitely frustrating."
Henrickson said KU's struggles on the glass came down to a couple of areas. The first was a lack of effort. Another was fatigue. And when the two were combined it created what Henrickson described as a "rebounding fest" for the visitors.
"We said, 'We're not asking you to jump higher today,'" Henrickson began. "'We're asking you to do your job.'"
Added Knight: "They're big and they're long and we weren't as tough as we needed to be down the stretch. We really just needed to put a body on somebody and we didn't do that."
KU was out-rebounded 47-28 overall — 23-7 on the offensive glass — and many of those second and third chances for the Mountaineers turned into easy points.
For a while, it looked as if statistics would not matter in this one at all, as WVU raced out to a 13-3 lead in the first five minutes off 6-of-12 shooting while giving up just three shots to the Jayhawks. KU responded to that sluggish start by outscoring WVU 25-14 in the final 15 minutes of the first half to take a one-point lead into the locker room.
In the second half, the Jayhawks and Mountaineers traded buckets — and leads — for the first eight minutes until KU built a 46-41 lead with 11:47 to play. That's when the Jayhawks hit their scoring drought and paved the way for the Mountaineers to cruise to a comfortable finish.
"Once they decided to rebound was when they made the run," Henrickson said.
For four Kansas freshmen, Thursday's loss was their first taste of Big 12 basketball. Each had good moments in the loss. Dakota Gonzalez played 20 minutes and had a key steal and layup that gave KU the lead at halftime. Starter Keyla Morgan finished with six points and hit two three-pointers while playing through foul trouble. Caelynn Manning-Allen grabbed three rebounds in six, foul-plagued minutes. And Jada Brown hit both shots she attempted and snagged three rebounds in 12 minutes.
More than anything, though, each one learned a valuable lesson that they hope will serve them well the rest of the way.
"You have to have toughness to play in this league," Brown said. "And I definitely saw that tonight."
KU travels to Baylor on Sunday for a 3 p.m. match-up with the ninth-ranked team in the country.
More like this story on KUsports.com