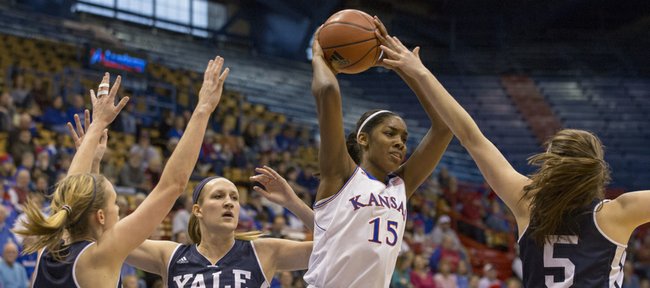 After a one-game absence from the starting lineup, Kansas University junior forward Chelsea Gardner is back on track to hear her name called during introductions at 7 tonight, when the KU women's basketball team opens Big 12 play against West Virginia.
KU coach Bonnie Henrickson said the decision to start freshman Caelynn Manning-Allen over Gardner during Sunday's victory over Yale was a one-time disciplinary move and that Gardner would start against the Mountaineers.
"Choices have consequences," Henrickson said earlier this week when asked about Gardner's status. "But it's in the past. It's nothing major, and I thought she gave better effort, and I thought we went to her (when she was in the game)."
Gardner's role as a temporary bench player did not have a negative impact on her ability to be a factor in the game. She still played 31 minutes and recorded another double-double of 26 points and 10 rebounds on 9-of-12 shooting. She also drained eight of 11 free-throw attempts and finished with just two fouls.
Gardner said the seat on the bench changed her perspective and forced her to focus.
"It was just something where, when I get in the game, I needed to be ready at all times and be ready when my name was called," she said.
Although Manning-Allen's final line included lots of ones and zeroes, Henrickson said she was pleased with the nine minutes Manning-Allen gave the Jayhawks in Gardner's place.
"I think she could kind of sense a couple days out that it was gonna happen," Henrickson said of the temporary promotion for Manning-Allen. "And she started putting herself in there with the first group in practice. I thought she made the most of her minutes, so that was impressive."
The beginning of Big 12 play brings with it the Jayhawks' second season. Although Kansas (7-5) gets the bonus of opening the conference portion of its schedule at home, that's about where the good news stops and the hard work begins.
West Virginia enters tonight's contest at 11-1 overall and on a 10-game winning streak. Known for their intense defense all over the floor, the Mountaineers figure to represent a stiff challenge for KU's still young and inexperienced squad.
"The returners started talking about it right away," Henrickson said. "'Best defense in the league. Pressure on the ball and pressure in the passing lanes.' We've been fortunate that our practice guys are committed, and they're here over break, and they have just created that chaos. We're gonna have to be comfortable in chaos because they're just so disruptive.
"Our offense has to allow us to play half-court defense. Otherwise, it's gonna be transition and a track meet."
Despite the daunting challenge — one of 18 in a row — that KU expects to face in its Big 12 opener, Gardner said the team's excitement was through the roof.
"We're ready for the opener to get here," she said.
More like this story on KUsports.com