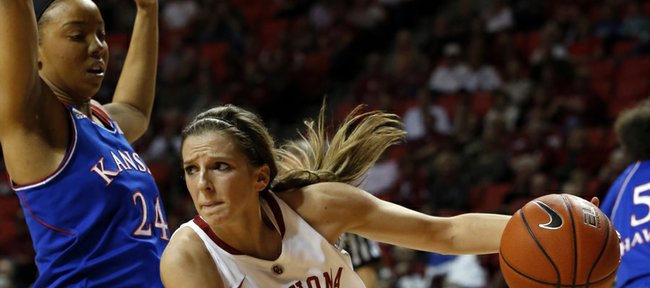 Document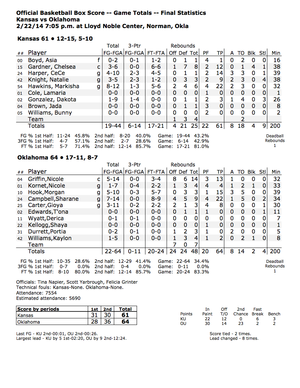 Norman, Okla. — Chelsea Gardner pulled the Kansas University women's basketball team within two points of Oklahoma with 53 seconds left, but the Jayhawks couldn't force a stop and lost, 64-61, on Saturday.
Gardner converted a layup after Oklahoma turned the ball over with a four-point lead and 1:05 on the clock. The Jayhawks (12-15 overall, 5-10 Big 12) couldn't capitalize on the next possession, though, as Sooners guard Morgan Hook sank a jumper with 26 seconds left. KU guard Natalie Knight missed a three-point attempt with 16 seconds remaining, OU rebounded the miss, and Hook sealed the game with two makes at the free-throw line.
Sharane Campbell scored 22 points to lead Oklahoma (17-11, 8-7), which erased KU's three-point halftime lead.
"We came out of the locker room terrible," KU coach Bonnie Henrickson said. "We were terrible and they got up three right away, and that's been our M.O. here lately."
Markisha Hawkins led Kansas with a career-high 22 points, 16 of which came in the second half and included a last-second three-pointer that cut the final deficit to three points. CeCe Harper had 14 points and Gardner had 12 points, eight rebounds and four blocks for KU.
The Jayhawks held the Sooners to just 34-percent shooting for the game, but Oklahoma put up 20 more shots, thanks to a 24-4 rebounding advantage on the offensive glass that Henrickson called "nauseating." OU outrebounded KU in the game, 48-25, and had 23 second-chance points while KU had none.
Kansas hosts in-state rival Kansas State at 7 p.m. on Wednesday at Allen Fieldhouse. The Jayhawks play just twice more at home and three times total before the Big 12 tournament, March 7 in Oklahoma City.