Friday, February 21, 2014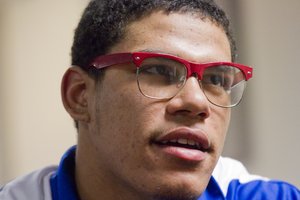 Christopher S. Martin, a 22-year-old former Kansas University football player and one of four men arrested following a May 2013 robbery in west Lawrence, pleaded guilty to felony robbery on Friday.
Martin appeared in Douglas County District Court on Friday and pleaded guilty to an amended charge, which was reduced from an original aggravated robbery charge.
"I took U.S. currency and marijuana from Marcus D. Folks," Martin told District Judge Paula Martin on Friday, referring to the 25-year-old KU student allegedly robbed during the May 13 incident at a home in the 1900 block of Camelback Drive.
Martin admitted to grabbing the cash, which prosecutors determined to be less than $100, and running off. Initial reports by police suspected Martin and three other men of robbing Folks at gunpoint. Martin's attorney, Sarah Swain, said Friday that the amended charge agreed upon after negotiations made no reference to a weapon being used. Also as part of the agreement, the prosecution will not ask that Martin be required to register as a violent offender.
Martin, an Oakland, Calif., native, now attends New Mexico Highlands University in Las Vegas, N.M., and was listed as a junior defensive lineman for the school's football team. Still free on a $35,000 bond, Martin will return to Douglas County for sentencing on April 4. He faces between 31 and 136 months depending on his criminal history and is eligble for probation, for which Swain has asked.
Martin transferred to Kansas in 2013 as a four-star defensive end, but he did not appear in a game prior to his arrest.
Three others were arrested in connection with the alleged robbery, including two other former KU football players: Christopher A. Omigie and Jeremiah L. Edwards. Omigie pleaded guilty to felony theft charges last month in exchange for testimony against Martin during a trial that was previously scheduled for early March. Omigie, who now lives in Texas and is free on a $30,000 bond, admitted to being an accomplice to the crime, and his defense attorney told the judge that Omigie served as a driver during the robbery. Omigie faces five to seven months, presumptive probation and a possible fine of up to $100,000. He will be sentenced March 21.
Edwards, 21 of Lawrence, was sentenced in October to three years of probation, and the other man charged, Joshua Edwards, 28 of Garland, Texas, was sentenced in August to two years of probation.