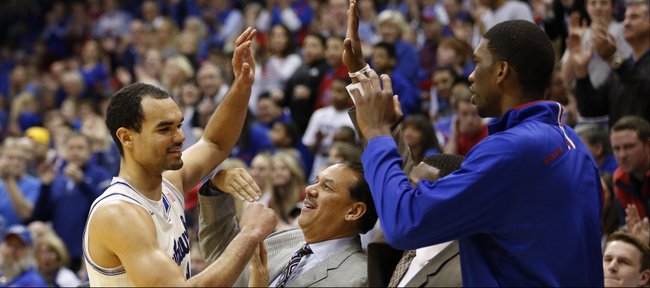 Sophomores Perry Ellis of Kansas and Isaiah Austin of Baylor shared the latest Big 12 Men's Basketball Player of the Week honor.
This marks the second time this season Ellis has won the award, while Austin is recognized for the first time.
A 6-foot-8 forward, Ellis averaged 25.5 points and 9.5 rebounds as the Jayhawks dropped an overtime decision at Kansas State before defeating TCU in Lawrence. 
The Wichita native turned in his top effort against the Horned Frogs, scoring a career-high 32 points on 13-of-15 (.867) shooting. For the week, he shot 64.3 percent (18-of-28), including 2-of-3 (.667) from 3-point range, while converting 13-of-16 (.813) from the free-throw line. 
Ellis has four double-doubles this year and has led the Jayhawks in scoring each of the last two contests.  
Baylor guard Kenny Chery won the league's Newcomer of the Week.