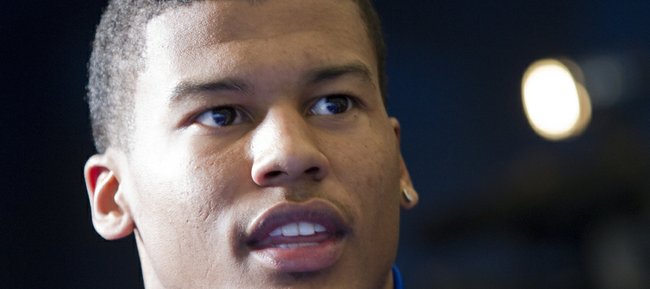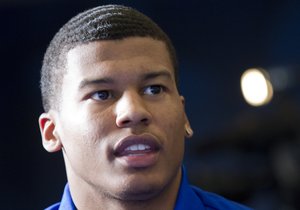 Five starters return to the Kansas University secondary, so Northeastern Oklahoma A&M; transfer Ronnie Davis realizes playing time will not be easy to come by next season.
Davis is transitioning to the life of a NCAA Div. I football player, but this is not his first rodeo. Figuratively or literally.
One of Davis' favorite hobbies growing up besides playing football was riding horses with his father and grandfather.
"It's just something I kind of grew up into. As I can remember as a younger guy, I started off with Shetland ponies," Davis said. "Everyone had bigger horses. As I grew older, I got bigger horses. I went from a Shetland pony to a Welch pony and then to a regular horse."
Davis' uncle, Cornelius Davis, suited up as a quarterback, halfback and safety at the University of Oklahoma from 1993-1997.
"I grew up as a Sooner fan," Davis said. "My whole family, they are diehard Sooner fans."
Davis' pride of his home state and his passion for rodeo has not gone unnoticed by his teammates. The Jayhawks have welcomed Davis to the team but have also given him a hard time about riding horses and growing up in the middle of Sooner country.
"They said being from Oklahoma, they feel like we still ride horses to school and things like that, but it's not like that at all," Davis said. "Oklahoma is a place where if that is what you want to do, it is most certainly there for you to be able to do it. Maybe growing up in Oklahoma has kind of evolved me into having more love for the rodeo circuit as opposed to growing up anywhere else."
Davis' favorite rodeo events are the dissimilar pony express and calf-roping.
"(The pony express) is a relay race on horses, so that is very competitive," Davis said. "The pro rodeo circuit is starting to kind of look into pony express more and thinking about putting it into like a national circuit, so that was kind of good."
Davis says football and rodeo have plenty in common. He said there are skills that overlap between the two sports.
"Just awareness overall because as far as the rodeoing and things like that, you have to be really aware with the animals that you're riding or the animals you are going up against," Davis said. "Things like that kind of just helps your mind-set out a lot as far as just being aware of everything around you. The competitiveness is there. The same way people compete in football, you do the same in rodeo."
Much to Davis' chagrin, rodeo is not something Kansas coach Charlie Weis has in mind for his new defensive back in the offseason for the next two years.
"He's kind of told me that, you know, it is more of a what is more important to me?" Davis said. "If I feel like rodeoing is more important to me, that is what I should be doing. Most importantly is football, so that is pretty much what he was saying."
One of the main reasons Davis signed with Kansas is that he believes playing for the Jayhawks could help lead him to an NFL career. KU defensive-backs coach Dave Campo and Weis are former NFL coaches, and Davis is looking forward to learning what it takes to play at the next level.
"I'm excited because I feel like the NFL is my all-time goal," Davis said. "Being coached by guys that have coached in the NFL is kind of like a second dream to me because I feel like that could set me up with all the things I need to be as far as the tough love and things that you get from coach Weis, and then coach Campo is more of a laid-back guy as far as just teaching what you should be doing and coaching you through it."
The possibility of a professional rodeo career is something that Davis has kept in the back of his mind.
"If football don't work out the way I want it to, I will be in the pro rodeo circuit. Most definitely," Davis said. "I've just developed a love and a passion for riding horses. Just the whole thing, you know. I feel like when I got my boots on, can't nobody tell me anything."
Davis was a workhorse at Northeastern Oklahoma A&M;, where he showcased the ability to play a variety of positions in the secondary. He hauled in four interceptions his sophomore season.
Prior to signing with Kansas, Davis originally committed to Utah State after two seasons at Northeastern Oklahoma A&M.;
"I felt like (Utah State) was maybe too far for me. I'm more of a family person, and Kansas was just right up the street," Davis said.
The 6-foot, 181-pound defensive back is excited about the opportunity to play in the different schemes that Campo likes to use.
"I like that they are more of a quarters defense, also nickel," Davis said. "They play the nickel package, and as far as the defensive backs go, they kind of let them play their game. It's more of a me-and-a-man-type of thing, so it's best-on-best, I feel like."
Davis, a three-star recruit as a cornerback out of Midwest City High, also played quarterback for the Bombers. Davis credited his experience as a quarterback and knowledge of the position for making him a better defensive back.
"It allows me to be able to know what the quarterback is thinking as far as down- and distance-wise," Davis said. "... It helps me bait him more into throwing the ball my way, which is in my favor."
More like this story on KUsports.com