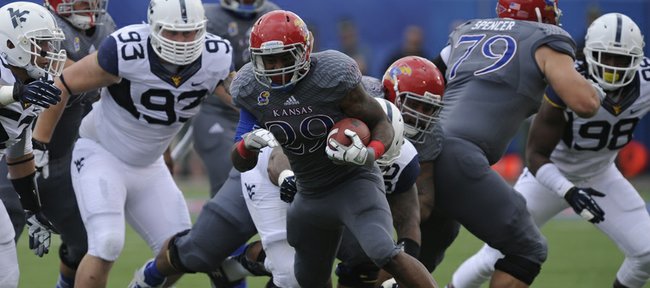 Former Kansas University running back James Sims has been here before.
Overlooked by those who sent out the invitations to the NFL Combine, which starts Saturday and runs through Feb. 25, Sims finds himself in the familiar position of having to prove himself without any help from anyone else.
He did exactly that for four seasons at Kansas, where he heard year after year that someone new, someone better, was heading to campus to take his starting spot in the Jayhawks' backfield. It never happened, of course, and Sims finished his Kansas career as a four-year starter who led the team in rushing for four consecutive seasons and set career-highs each time.
The totals left him with the third-highest career rushing total (3,592) in KU history and second all-time in rushing touchdowns (34) and 100-yard games (16).
While those accomplishments forever will be a part of his KU legacy, they mean very little right now, as Sims is focusing his efforts on earning a spot in the NFL.
KU coach Charlie Weis said throughout his two seasons with Sims that the 6-foot, 200-pound tailback had all the tools needed to make it in the NFL and play for a long time.
"He doesn't have a glaring weakness," Weis said. "I can't see one reason why he wouldn't play on Sunday. I think he's a nice, solid player. I'd want him on my team."
Sims' omission from the NFL Combine hardly spells the end of his hopes at a pro career. Although Combine attendance has proven to be a solid indicator of how one will fare in the NFL Draft — May 8-10 — it is not the end-all be-all of one's chances at making an NFL roster.
In recent years, Kansas has become the poster school for unheralded players finding their way onto an NFL roster after going undrafted. Last season, former KU players Chris Harris and Steven Johnson held down starting roles during the Denver Broncos' run to the Super Bowl. Neither player was drafted, and only Johnson participated in the Combine.
Kansas is the only school of the Big 5 BCS football conferences (ACC, Big 12, Big Ten, Pac-12, SEC) not to have a player invited to this year's Combine. And while that might sting in some ways, for a guy like Sims, who never cared much for individual accolades or personal glory, it seems fitting.
As his final season at KU wound down, Sims opened up a little about his goal of playing professional football, something he said he never believed was possible just four years ago.
"I've thought about it a lot," he said. "The NFL … it's everyone's dream to go there, and only a select few get chosen to go there. I'm a step closer to getting there. ... I'm just hoping for the best."
More like this story on KUsports.com