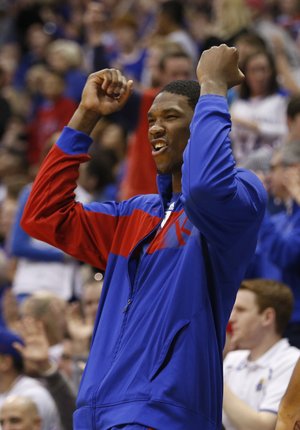 Kansas University freshman center Joel Embiid "practiced full speed today," coach Bill Self was happy to report Sunday.
Embiid, who was slowed by knee and back injuries while playing just 18 minutes in Monday's loss at Kansas State, was held out of Saturday's win over TCU. He's slated to play in Tuesday's 7 p.m. game against Texas Tech in Lubbock, Texas.
Embiid, who according to Self could have played against TCU, has had no structural damage in his knee or back. His physical problems have been more of the severe-bumps-and-bruises variety.
"The thing about it is, this time of year more than anything, it's not so much if you get yourself energized as much as how does your body feel," Self said. "There's a lot of bodies across America right now. There's a lot of guys that have got a lot of nicks and a lot of guys that are playing with turned ankles or this or that, and they're sore, but they're not hurt and things like that, and I do think that's natural this time of year."
Embiid is one block shy of tying Eric Chenowith for the school record for blocks in a freshman season. Embiid has 61 blocks. Embiid has at least one block in 18 consecutive games. Chenowith's longest streak stopped at five straight his freshman season (1997-98).
Withey in the house: Former KU center Jeff Withey of the New Orleans Pelicans has averaged 2.3 points and 2.1 rebounds while playing 8.9 minutes a game in 29 games at the All-Star break of his rookie season. He has 14 blocks.
"It's great. It's a learning process from college. It's a lot different. It's a longer season," said Withey, who attended Saturday's KU-TCU game. "I'm really happy where I'm at being in New Orleans. I like all my teammates. I will continue trying to get better.
"I'm excited to see a (KU) game," he added of KU's 95-65 victory over the Horned Frogs. "I've not been able to see any of the games, even on TV because we're so busy with our season. I went to practice (Friday) and saw coach Self and all the other coaches and said 'What's up' to all the guys. It's great to be back in Lawrence."
Movie talk: Looking back on Friday's premiere of the movie "Jayhawkers," Self said he especially enjoyed scenes involving KU's 54-53 triple-overtime loss to North Carolina in the 1957 NCAA title game.
"We see things all the time that remind us of our history," Self said. "There's one thing we haven't touched base on was the triple-overtime loss to Carolina in '57. I've known about it, but I don't think our players did. We know of '52. We know of '88. We know of '08. We know of '22 and '23, but to see that firsthand (was great)."
Camp in May: Registration is open for the third-annual Bill Self Basketball Fantasy ProCamp, May 2-4 in Allen Fieldhouse. For information on being a player or coach at the camp, go to www.billselfexperience.com or e-mail mchacksfield@procamps.com.
More like this story on KUsports.com