Document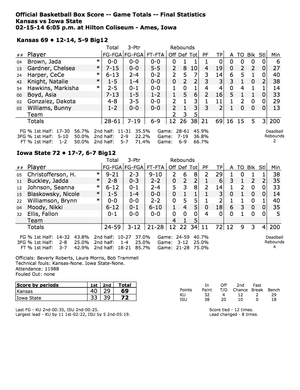 Ames, Iowa — Iowa State women's basketball team erased Kansas University's seven-point halftime lead and held off the Jayhawks, 72-69, on Saturday in Hilton Coliseum.
Hallie Christofferson scored 29 points to lead the Cyclones (17-7 overall, 6-7 Big 12) past the Jayhawks (12-14, 5-9).
Iowa State went ahead for the first time since midway through the first half on a pair of Christofferson free throws with 7:32 left.
Chelsea Gardner put in three of her team-high 19 points with 35 seconds left, on a jumper and foul shot, to give KU a one-point lead.
ISU's Nikki Moody converted a layup with 25 seconds left, and the Jayhawks turned the ball over after a timeout. Following a KU foul with 14.7 seconds left, Christofferson made two free throws, and KU missed the potential tying shot at the buzzer.