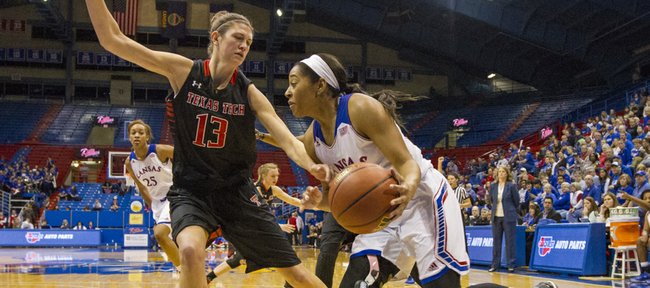 To say Kansas University junior guard Natalie Knight is on a roll would be putting it mildly.
During the past three weeks, in which she has scored in double figures in six consecutive games and in four straight shot 50 percent or better from three-point range, Knight has carried Kansas to a 3-3 record and kept alive hopes for the postseason.
Although her .382 career three-point mark (99-of-259) would put her second on KU's all-time list, the junior from Olathe never takes the floor thinking about padding her stats, only winning.
Still, the Jayhawks (12-13 overall, 5-8 Big 12) know that when Knight shoots well, as she has lately, it dramatically increases their chances of winning. And they're banking on her leading the charge at 6 tonight in Ames, Iowa, when they take on Iowa State (16-7, 5-7) in a crucial Big 12 matchup.
Knight's role as a college basketball three-point marksman came innocently. After starring at Olathe South as one of the best all-around high school players in Kansas, Knight found herself asked to handle a different role during her freshman year at Kansas.
"In the beginning, because when I first got here there was Angel (Goodrich) and Carolyn (Davis), my role was to make shots when I was wide-open," Knight recalled. "That was kind of my role in the beginning, and I just ran with it."
As her career has progressed, Knight has been asked to shoulder more of the scoring load little by little and has always been up for the challenge. Although she still can hit pull-up jumpers, is automatic at the free-throw line and handles the ball well enough to create her own shot, she has become an assassin behind the three-point line, one of the best in the past decade, according to KU coach Bonnie Henrickson.
"I think so, because of her discipline," the KU coach said. "I've never had a kid more disciplined than her. I never have. Everything. Not just the shot, but the decisions she makes, the choices she makes, her effort. Who's more disciplined than that kid? Nobody."
The way Knight sees it, all of the things her coach praised about her exist because it's the only way she knows how to play the game.
"There's definitely a process to shooting," Knight said. "But if you're ready to shoot, it's more likely to go in. If not, you probably shouldn't take the shot."
With the regular season winding down and the Jayhawks constantly mindful of the need to be above .500 to qualify for some form of postseason play, the focus is on winning as many games down the stretch as they can. For the seniors on the roster, the stakes are even higher.
"I think it really hit me after the Oklahoma game," senior point guard CeCe Harper said. "We know what we have to do. It's not a maybe thing, it's, we need to do this, we have to win these games, and everyone has picked up their intensity in practices and in games. I think we understand, and I think we're gonna make it happen."
More like this story on KUsports.com