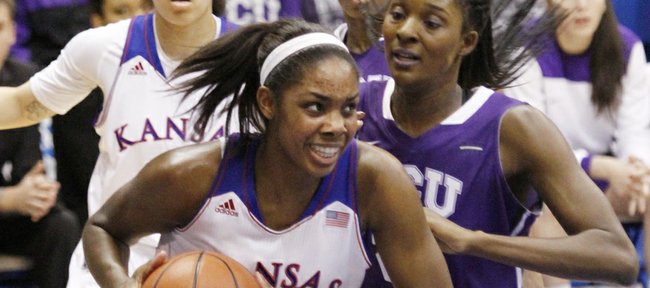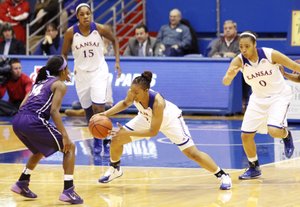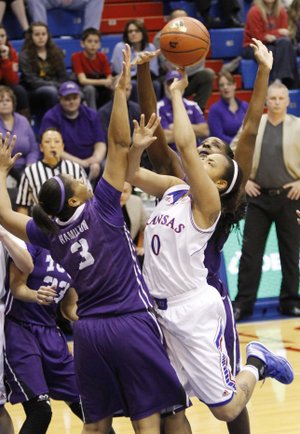 Document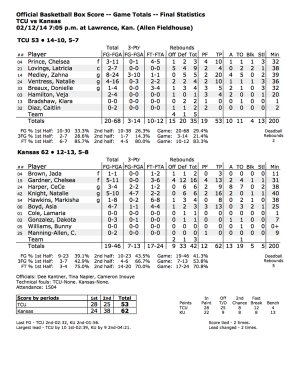 All-out effort can do wonders for a team trying to dig out of a hole.
So can the sweet shooting touch of a veteran guard who is equal parts intense and unflappable at all times.
Kansas University guard Natalie Knight displayed both during the KU women's basketball team's come-from-behind, 62-53 victory over TCU, Wednesday at Allen Fieldhouse.
After a sluggish 15 minutes to open the game, Knight sparked a Kansas comeback late in the first half with back-to-back three-pointers that helped slice TCU's 26-16 lead to just four — 28-24 — by halftime.
Knight, a soft-spoken junior from Olathe, led KU with 16 points and knocked in four of seven shots from three-point range. While each shot from distance was huge at the time, none was as big as Knight's two-point runner in the lane with 1:54 remaining. That basket pushed KU's lead to 56-52 and helped bring calm back to the Kansas side.
"The shot clock was winding down and I knew we needed a basket because they were making a little run," Knight said of the Horned Frogs, who had trimmed KU's 54-45 lead to a single possession with a 7-0 run.
Asked if she could sense the relief that her 12-footer brought to her team, Knight smiled and refused sole credit for her team's ability to close this one out.
"I think every little thing helped at that point," she said. "Because we were a little rattled at that time."
Added senior guard CeCe Harper, who tallied nine points and eight assists: "When she hit that and we went back up (four) I think it kind of gave us a little momentum and we realized we could win that game."
At times, particularly late, Wednesday's victory was eerily similar to the first meeting between these two teams in Fort Worth, Texas. In that one, KU's passive play in the last 5:23 allowed TCU to storm back from an 11-point deficit and win, 52-50. It looked like things might head down a similar path in this one, and TCU coach Jeff Mittie reminded his players that they had climbed back against Kansas before.
"I'm sure it was going through their heads," Mittie said of KU's slip-up in the last meeting. "But they regrouped nicely. Give Bonnie and her kids credit. I wish we would've finished."
Although the clock wasn't working against KU's comeback on Wednesday like it had against TCU's in Fort Worth, the reversal of fortunes was just as significant for a Kansas team in need of a spark.
"We had to (win) from a win standpoint," KU coach Bonnie Henrickson said. "But I think we had to from a momentum and juice standpoint, too."
Because just five games remain on the regular season schedule — KU plays at Iowa State at 6 p.m. Saturday — Henrickson said the victory against TCU, and the way it occurred, could go down as a key moment in KU's late-season charge.
"I've respected the fact that we've come back after such tough losses and we've not been demoralized and devastated," Henrickson said. "But at some point you gotta find a way to win one."
Junior forward Chelsea Gardner added 13 points and 16 rebounds for KU and junior Asia Boyd chipped in with 13 points off the bench.
Wednesday's victory improved KU to 12-13 overall and 5-8 in Big 12 play and dropped TCU to 14-10 and 5-7.
More like this story on KUsports.com