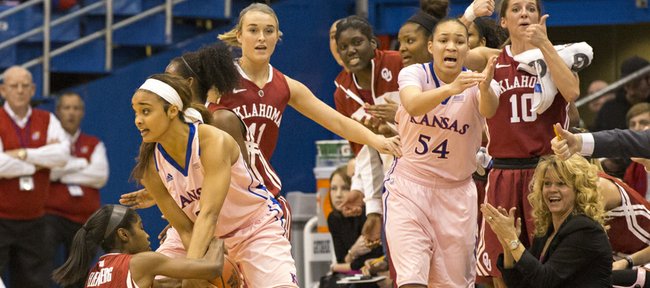 Document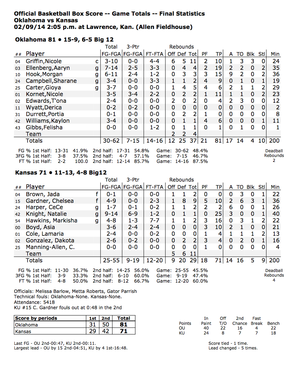 Career-high scoring games typically make players feel good about themselves and their teammates.
But after personal-record afternoons from Kansas University women's basketball guards Natalie Knight and Markisha Hawkins against Oklahoma on Sunday at Allen Fieldhouse, neither could so much as force a smile.
Knight scored a career-high 25 points, making nine of her 14 shots and six of nine from three-point range, and Hawkins added 16, tying her career high. Those feats did nothing to make the members of KU's starting backcourt feel any better about a second straight loss — an 81-71 setback.
Spurred by 19 points from senior guard Aaryn Ellenberg, 15 from senior guard Morgan Hook and 11 more off the bench from sophomore guard Nicole Kornet, the Sooners prevailed.
"I don't think it matters," Hawkins said of the numbers she and Knight put up, "because we still lost. We've got to go into practice and fix some small things and get ready for TCU (on Wednesday at the fieldhouse)."
While Knight also set a career mark with nine field goals and tied her personal record with six threes, Hawkins was her only teammate capable of coming close to replicating consistent production.
With junior KU forward Chelsea Gardner finding offense more difficult to come by than usual — especially in the first half, when she played all 20 minutes but failed to make a field goal on four attempts — the Jayhawks' leading scorer on the season only managed 10 points before fouling out in the final minute of regulation against OU (15-9 overall, 6-5 Big 12), and the Sooners outscored Kansas, 40-24, in the paint.
Kansas basketball coach Bonnie Henrickson said her counterpart on the Oklahoma bench, Sherri Coale, had a defensive game plan ready to limit KU's go-to post player.
"They rotated and kept fresh legs on (Gardner) and were physical with her," Henrickson said. "She had to have multiple efforts to get a good post-up, and we had to have multiple efforts to throw her the ball inside. As difficult as it was for us to throw it inside, it was easy for them to throw it inside without ball pressure."
Hawkins said Kansas (11-13, 4-8) struggled too often to make its offense work when OU forced the Jayhawks away from their preferred plays, most of which involve Gardner touches on the inside.
"When she doesn't get the ball, we just have to penetrate," Hawkins said, "and then try to find if we can kick it out for open shooters."
KU went 6-for-10 from three-point territory in the second half, but a pair of those makes came in the final 3:05 from junior guard Asia Boyd (10 points) after Oklahoma had created a double-digit lead. Plus, OU held Knight scoreless the final 10:41.
Said Knight: "They turned up the defense, definitely, and we tried to do the same thing, but we weren't as successful at it. They definitely wanted to try to take away those threes we had been getting, because they wanted to keep their lead when we were trying to cut down the lead."
Gardner's fourth and final basket came at the 6:51 mark of the second half and cut OU's lead to five, but the Sooners responded with back-to-back threes in transition from Kornet and Ellenberg, and OU led 66-55. KU never came any closer than nine points from that point on.
More like this story on KUsports.com