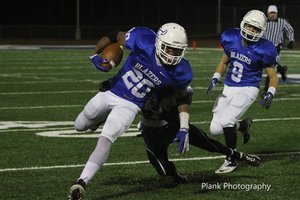 When the football signing day highlight video plays, the tendency is to love every player the way you love the backup quarterback before he gets his first shot.
For one thing, it's a highlight video, so nothing but the good plays make the cut. For another, the player hasn't made a single bad play for your team yet, so you have no reason to do anything but let your optimistic side dominate your thoughts.
Still, the highlights shown of Gardner-Edgerton running back Traevohn Wrench during Charlie Weis' hour-long news conference to discuss the recruiting class of 2014 screamed "superstar in the making."
Careful not to hype recruits the way he did in years past, Weis
had a little difficulty checking his tongue discussing Wrench. Who wouldn't?
"The first tape I watched, he rushed for about 400 yards in a high school game," Weis said. "Touches the ball, goes for 20. Touches the ball, goes for 50. Touches the ball, goes for 70. Touches the ball, goes for nine. Nine's a bad run for him. I mean, when you watch a game and a guy's rushing for 300, 400 yards, how do you do that?"
Dirk Wedd, against whose Lawrence High defense Wrench ran for 328 yards and three touchdowns in a 2012 playoff game, is qualified to answer that question.
"I would guess that the highlight tape Charlie showed was just against Lawrence High," Wedd said, guessing wrong. "By the end of the first quarter, we had taken him to the ground one time, ran him out of bounds three times and he had scored two times."
LHS won the game, 34-32, and Wrench made a lasting impression on everyone who saw it. (I watched an online-streaming version of it in a hotel room in Waco, Texas. Does that make me a loser? If so, I was a very entertained loser that night.)
"He's bigger than you think," Wedd said. "He's one of those backs if you load up tacklers because you think he's going to run over you, he's so elusive he'll make you miss. And if you hang back because you think he's going to dance, he'll run over you. He's got both of those. That's unique for a high school back."
Wedd said that night he had a flashback to his days as an assistant coach at Wichita State.

"When I saw him in person, I said, 'I've seen someone who runs like that.' He's got kind of a high waist and when I was at Wichita State we played SMU," Wedd said.
Eric Dickerson?
"Eric Dickerson," Wedd said.
Now, Dickerson was 6-foot-3, 225 pounds and ran a 4.3 40. Wrench is 6-0, 190 and runs a 4.5, but a high school running back who reminds a veteran coach of Dickerson in any way can't possibly be a bad thing.
"He's still a young kid," Weis said of Wrench, a four-star recruit. "This is not a guy who's going to be 190. This is a guy who's going to be 210. And that's usually about the size of guys who play at that next level (NFL)."
It's always enjoyable to watch the highlights, listen to the words spoken about the recruits and try to guess which prospect will go on to have the best career. Here's a vote for Wrench.
More like this story on KUsports.com