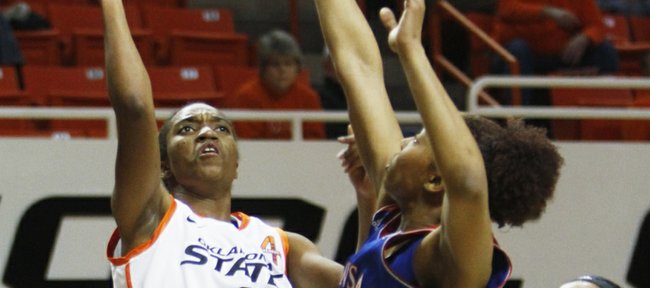 Stillwater, Okla. — Kansas University senior guard CeCe Harper missed a last-seconds layup to tie the game against Oklahoma State on Wednesday night at Gallagher-Iba Arena, giving the No. 12 Cowgirls a 76-74 victory over the Jayhawks.
Ten seconds earlier, Harper pulled KU within a point on an and-one layup and foul shot against OSU's Tiffany Bias. Kansas immediately fouled to force free-throws by Brittney Martin, who missed the first and made the second. Harper raced up the court and put up a shot with two seconds left, and time expired as the teams tried to corral the rebound.
The Jayhawks (11-12 overall, 4-7 Big 12) trailed, 37-34, at halftime before outscoring the Cowgirls (19-3, 8-3) in the second half. Fresh off a career-high 34 points against Texas Tech on Saturday, junior forward Chelsea Gardner led KU with 25 points, 11 rebounds, four steals and three blocks. Harper finished with 15 points, seven assists and five rebounds. Four Jayhawks — Gardner, Harper, Natalie Knight (12 points) and Asia Boyd (13) — scored in double-figures.
Center LaShawn Jones led OSU with 17 points and seven rebounds.
Kansas will face Oklahoma at 2 p.m. Sunday in Allen Fieldhouse.