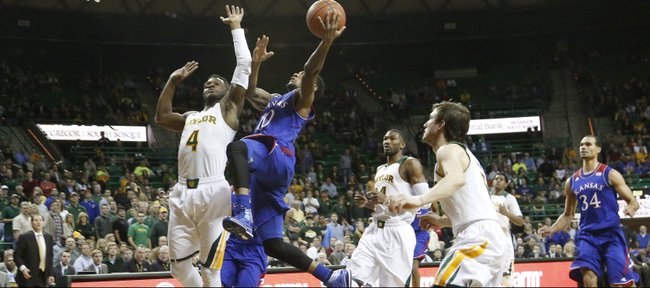 Photo Gallery
Kansas basketball v. Baylor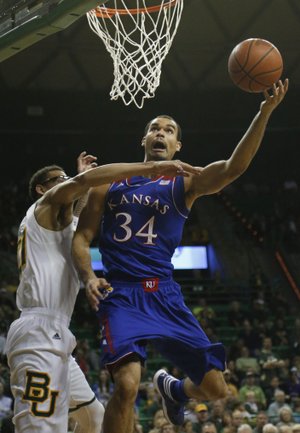 Images from Tuesday night's game between the Jayhawks and Bears in Waco, Texas.
Podcast episode
Bill Self talks Tharpe, Wiggins, defense after 69-52 victory at Baylor.
KEEGAN RATINGS
KANSAS 69, BAYLOR 52
Waco, Texas — Baylor basketball coach Scott Drew had a big smile on his face as he passed Kansas University's Bill Self in a hallway after the Jayhawks' 69-52 victory over the Bears on Tuesday night in Ferrell Center.
"Hey, Bill, thanks for getting on Tharpe today," Drew cracked. "He said you got on him good today."
"He played well," Self responded before wishing Drew and his Bears good luck the rest of the season.
KU junior point guard Naadir Tharpe, who had a nice chat with Drew in the post-game handshake line, exploded for 22 points off 9-of-13 shooting (4-of-6 from three) with four assists against two turnovers, plus five rebounds, just a few hours after receiving an earful from his head coach at shoot-around.
"Yes, coach was getting onto me at practice," Tharpe said, confirming Drew's revelation. "I knew I was going to have to come out today and have a good game."
What did Self say to Tharpe, who scored just three points in Saturday's loss at Texas and was benched the last 10 minutes of that game?
"He just gets onto me at practice sometimes," Tharpe said. "When he gets onto me at practice, tells me I'm not leading, I know I have to pick it up."
Tharpe exploded for 14 points the first half, while Perry Ellis added 10 as the (17-5, 8-1) Jayhawks raced to a 35-27 halftime lead. Tharpe hit six of nine shots while playing 19 minutes the initial half and 38 minutes for the game.
"I just felt there were opportunities for me to score the ball. I was trying to stay aggressive the whole game," the 5-foot-11 Worcester, Mass., native stated. "Certain times we couldn't find anything. I was just trying to make a shot to help the team."
Tharpe, who had taken just 13 shots the last four games — scoring three versus Texas, 12 against Iowa State, none versus TCU and six against Baylor in Lawrence — had a pivotal three in Tuesday's victory.
His straight-on shot upped a 45-42 lead to 48-42 with 12:31 left. That opened an 11-2 run that stretched the three-point lead to 12 (56-44) at 7:51.
"We ran bad offense the whole possession," Self said, adding, "that may have been the biggest basket of the game. They had momentum. I thought that was a big shot. It was crap offense and we scored on that shot."
Tharpe said he was just trying to make a play.
"The play died down, didn't work out," Tharpe said. "Usually if that's happening we get a high ball screen or run flat. I decided to run flat and make a play and I did."
He said he was determined to have a better game after being benched late in the Texas contest.
"I knew that last game we played in Texas ... that wasn't Kansas basketball at all," Tharpe said. "Me being point guard and leading the team ... I was down on myself. I didn't do anything to help the team. I knew we had a quick turnaround coming in Waco and I had to play better.
"We have to be aggressive. Against Texas, even though Texas played a tremendous game, we kind of beat ourselves. After they made a play, we had nothing to come back with. Today in Waco, we had to come out with some fire," Tharpe noted.
His teammates were impressed.
"Naadir was unbelievable ... stepping up to the plate," said senior center Tarik Black, who had six points and nine boards on a night Embiid (five points, seven boards) was in foul trouble. Ellis had 14 points and 10 boards.
"He's our point guard ... our leader," Black added.
Tharpe's coach was equally impressed while also applauding guards Frank Mason and Wayne Selden for slowing down Brady Heslip, who hit four threes the first half and none the second. Heslip was 4-for-10 form three, good for 12 points.
"Naa was great. He didn't take a lot of shots, well he took 13," Self said. "I thought all were good. I thought he played even better than his stat line. He needed that. We needed him to be good tonight, especially when playing against a zone."
Tharpe is hoping to become a bit more consistent in coming games.
"That's what I've got to do," he said of the way he played on Tuesday.
KU will next meet West Virginia at 3 p.m., Saturday, in Allen.
More like this story on KUsports.com