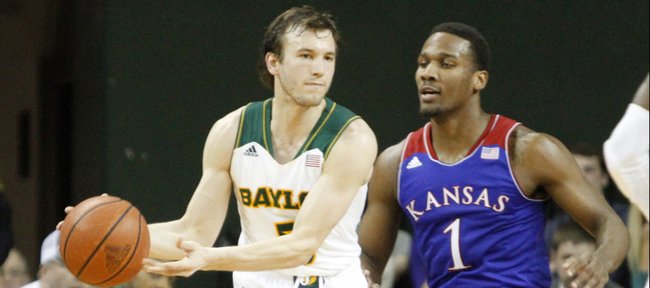 Photo Gallery
Kansas basketball v. Baylor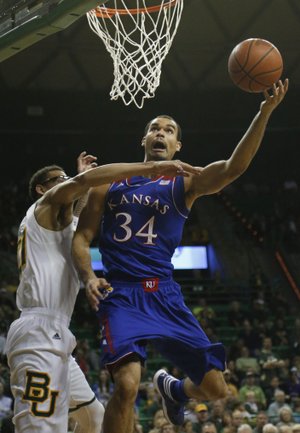 Images from Tuesday night's game between the Jayhawks and Bears in Waco, Texas.
Podcast episode
Bill Self talks Tharpe, Wiggins, defense after 69-52 victory at Baylor.
KEEGAN RATINGS
KANSAS 69, BAYLOR 52
Waco, Texas — Baylor's Brady Heslip hit four threes in eight tries the first half, then missed his only two attempts the final half of BU's 69-52 loss to Kansas University on Tuesday in Ferrell Center.
The senior sharpshooter, who had hit six threes in nine tries and scored 19 points in the Bears' 78-68 loss to KU in Lawrence, was slowed a bit the final 20 minutes by KU's Frank Mason and Wayne Selden.
"They're just a really sound defensive team," Heslip said. "They know their identity and have some big guys down there who can really block shots. They're physical and play great defense. Credit to them for playing great defense, but we didn't hit enough shots tonight to win, either."
BU hit 16 of 55 shots for 29.1 percent.
"They were just hedging on screens and a couple times we didn't execute right," Heslip said. "I didn't get as many looks in the second half as I did in the first half and I missed those easy floaters I usually make."
KU out-rebounded Baylor, 45-31. The Bears had out-rebounded KU by two in Lawrence in the first meeting, a 78-68 KU win.
"I just feel we were taking a lot more shots than they were taking the first half (KU hit 25 of 54 for 46.3 percent)," said forward Rico Gathers. KU actually took just one more shot the first half in leading by eight at the break.
"That's why they got such a big rebounding advantage. We were fouling a lot. That's another reason. But looking at it, we've just got to get more production on the boards."
BU fell to 2-7 in the league.
"For sure we can get on a streak," Gathers said. "There's no doubt. We are halfway through and that's definitely the tougher half of the conference. We're just taking it one game at a time and we're looking to have a big second half in the conference."
Noted coach Scott Drew of the loss: "You can't beat anyone shooting 29 percent. We've got to make shots. We were in striking position three possessions or four possessions until the last five minutes. Kansas is a really good team."
Of Andrew Wiggins' halfcourt shot to beat the halftime buzzer, Drew said: "The one before half was actually a contested one. I thought (Naadir) Tharpe and (Perry) Ellis were the difference in making sure we never got in striking distance."
More like this story on KUsports.com