Document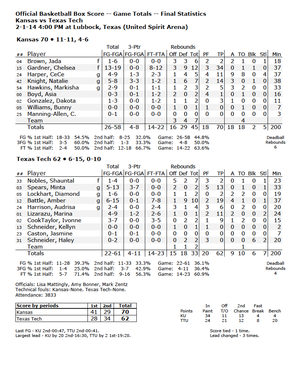 Lubbock, Texas — Kansas University junior forward Chelsea Gardner scored a career-high 34 points and added 12 rebounds to lead the KU women's basketball team over Texas Tech, 70-62, on Saturday at United Spirit Arena.
Seven of Gardner's points came in the final 2:18 as the Jayhawks (11-11 overall, 4-6 Big 12) held off the Red Raiders (6-15, 0-10).

Amber Battle led Texas Tech with 19 points, 10 rebounds and four assists.
Kansas made 18 of its 33 shots (54.5 percent) in the first half to lead Texas Tech at halftime, 41-28. KU closed the period with a 9-1 run, which included two three-pointers by junior guard Natalie Knight. Gardner had a season-high 23 first-half points for Kansas, going 11-of-13 from the field.
The Jayhawks began the second half with a 7-0 run to take a 20-point lead, 48-28, with 16:30 left. The Red Raiders responded with 11 straight points to pull within single digits with just under 13 minutes remaining. Texas Tech eventually cut Kansas' lead to three, 57-54, at 7:25. The Jayhawks closed out the game by limiting the Red Raiders' offense — no field goals from 4:58 to 1:10 — and dominating on the boards (19-6) and at the free-throw line (9-2) in the final seven minutes.
Knight finished with 14 points, seven rebounds and three assists. Senior guard CeCe Harper contributed 11 points, nine assists, five rebounds and four steals. Gardner topped her previous career high of 30 points, set earlier this season against Texas Southern.
The Jayhawks will face Oklahoma State on Wednesday night in Stillwater, Okla.
More like this story on KUsports.com