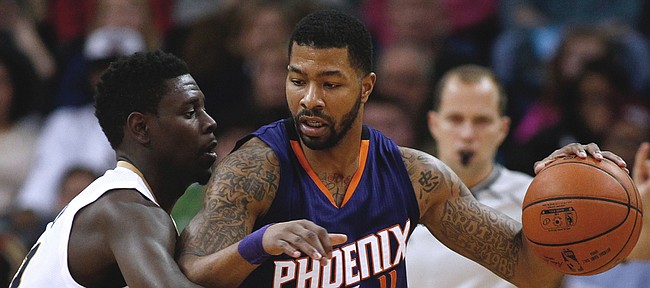 Paul Pierce's career is winding down. Andrew Wiggins has only just arrived on the scene. So right now, in a window that could close before long, Markieff Morris might be the best former Kansas University basketball player in the NBA.
As a key member of the Wizards, one of the top teams in the Eastern Conference, it's possible Pierce will prove more relevant this season.
Without a doubt, Wiggins will create more buzz in Minnesota, on his way to what figures to be a Rookie of the Year campaign.
Still, Morris produces more for Phoenix than any Jayhawk in the league does for his respective team, and the fourth-year forward has established himself as an integral piece for the Suns — 18-16 and a legitimate playoff contender in the ultra-competitive Western Conference.
A 6-foot-10 stretch power forward, Morris scored 25 points and went 10-for-17 in the Suns' 137-134 overtime loss on New Year's Eve in Oklahoma City.

For the first time in his young career, he is an every-day starter. Accordingly, Morris could set career-highs in points (currently at 14.9 per game), rebounds (5.9), assists (2.1), steals (1.3) and free-throw percentage (.821).
Though the Suns' offense revolves around three quick guards, Goran Dragic, Eric Bledsoe and Isaiah Thomas, Morris provides Phoenix with an effective post presence, while also not limiting himself to playing on the blocks. Entering Wednesday, Morris had shot 71-for-115 from less than five feet, 26-for-52 from five to nine feet, 44-for-81 from 10 to 14 feet and 32-for-74 from 15 to 19 feet (from stats.nba.com). Behind the three-point line, Morris had connected on 23 of 78 attempts, while scoring 40.3 percent of his overall points in the paint.
The versatile big told Paul Coro of azcentral.com he tries to adapt his approach to each game's unique flow.
"The guards have done a great job of penetrating and I'm just trying to stay near the three-point line and offensive rebound more and try to knock in shots," Morris said. "If I'm having success when I'm posting, I just keep attacking."
There is more to his effectiveness than his scoring, too. Coro wrote that Phoenix, through Dec. 24, had outscored opponents (per 100 possessions) 108.8-101 when Morris was on the floor. The 25-year-old forward said he spent the offseason working on every facet of his game.
"I think I got better on and off the ball," Morris said. "Taking charges, getting loose balls and all the small stuff."
According to hoopsmanifesto.com, Morris' 10 charges drawn tied him with Luis Scola for fifth in the NBA through games played on Dec. 25.
"He's doing everything," Dragic told azcentral.com. "We were watching tape from the last game in Dallas, and he was defending great. He was great defensively on Dirk (Nowitzki), and he gives us that offense we need under the basket. He's a big key for our success."
His twin brother Marcus won't challenge Markieff for best KU player in the NBA, but he's helping in Phoenix, too — 9.6 points, 3.8 rebounds and 40.6-percent three-point shooting. Just last week, Marcus went 6-for-7 from three-point range and scored 20 points off the bench in a Suns win over Sacramento. That same night, Markieff hit 8 of 11 shots and scored 17.
The duo signed contract extensions with the Suns before the season began. Phoenix's management told the twins it had $52 million to offer and let the brothers split the money between them. Marcus explained why he took $5 million a year and Markieff got $8 million annually in a feature by Jeff Allen for RollingStone.com.
"Keef played really well last year. Coming off the bench he was a potential Sixth Man of the Year candidate. So I think he deserved for his number to be higher than mine," Marcus said. "He's one of the great power forwards in the league. If he was by himself he would've gotten way more than that. I just wanted personally for his number to be higher.
"We look at it as a number for the household, you know?" Marcus added. "Thirteen million (dollars) a year for our family. Whatever it broke it down to, we didn't really care."
The Morris twins are under contract through 2018. By then, who knows whether Markieff, Wiggins or someone else — Joel Embiid? — will be the best Kansas player in the league.