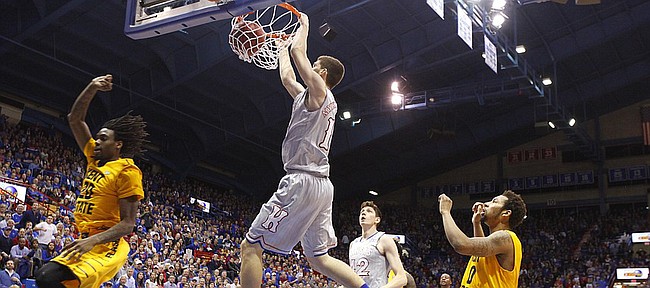 Photo Gallery
Kansas basketball v. Kent State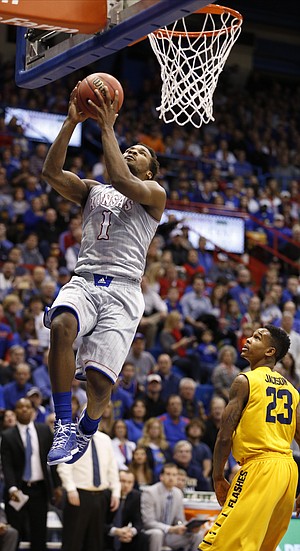 Images from the Jayhawks' matchup with the Golden Flashes on Tuesday at Allen Fieldhouse.
Podcast episode
Kansas University basketball coach Bill Self praised the play of Kelly Oubre Jr., calling him the team's definitive starting small forward, after KU's home win over Kent State. Self also complimented Frank Mason III after he put up 14 points, five assists and five rebounds.
Podcast episode
Kansas University basketball players Kelly Oubre Jr., Frank Mason III and Perry Ellis discuss what worked best for the Jayhawks as they beat Kent State, 78-62, at Allen Fieldhouse.
KANSAS 78, KENT STATE 62
During the days that led up to the showdown against 13th-ranked Kansas, Kent State coach Rob Senderoff preached rebounding and preventing transition points to his team.
And then, at Allen Fieldhouse on Tuesday night, the Golden Flashes (8-4) went out and got out-rebounded by 13 boards and outscored 19-0 in transition during a 78-62 loss to the Jayhawks.
"I don't think we could beat anybody with those numbers," said Senderoff, who lamented the specific numbers but left Lawrence proud of his team's effort and fight. "But certainly not a team that's as good and well-coached as these guys are. That was our focus, rebounding and transition, but the other team has something to do with that, too. We were trying to box 'em out."
With just over 10 minutes to play in the first half, Kent State's Kris Brewer hit a jumper that gave the Flashes a 22-16 lead and forced KU coach Bill Self to call timeout. From that point on, the Jayhawks (10-2) outscored Kent State 23-11 to close the half and 33-13 during a run that spilled over into the second half and pushed the Kansas lead to double digits for the first time.
KU freshman Kelly Oubre finished the first 20 minutes perfect offensively, knocking in all six shots he took and all four three-pointers he attempted.
"He was unbelievable in the first half," Senderoff said. "And I'm sure he's just scratching the surface of what coach Self would like to get out of him night in and night out."
Kent State players Jimmy Hall (13 points, 8 rebounds) and Derek Jackson (7 points, 6 rebounds, 8 assists) said KU's quick start to the second half put them in a bad spot that was tough to overcome.
"That (played) a big key," Jackson said. "When they went up (by double digits) it was kind of mind-boggling a little bit. You have to settle down. We just kind of tried to claw back, take a punch, throw a punch, and we let it get away from us."
As Senderoff pointed out on a couple of occasions after the loss, the team wearing the home uniforms had a little to do with that.
"They sort of force you to make mistakes," Senderoff said.
Kent State was able to pull to within nine points with nine minutes remaining and Senderoff said he knew his team believed it could draw even closer before the game ended. But KU's size and dominance down low — KU out-rebounded Kent State 44-31 and won the points-in-the-paint battle 44-26 — proved to be too much.
"There were a lot of them that were coming at us," Hall said of the KU big men, who limited him to 0-of-5 shooting and one point in the second half after opening the game with 12 points on 6-of-7 shooting from the floor.
Added Senderoff: "They just sort of wore on us with their physicality.... I think that is part of what makes Kansas Kansas, those big, physical guys up front that wear on you over the course of 40 minutes."
---
More news and notes from Kansas vs. Kent State
---
More like this story on KUsports.com