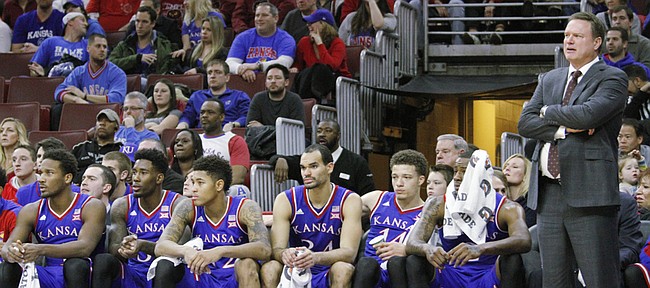 Podcast episode
Kansas University men's basketball coach Bill Self says you can't coach enthusiasm and energy, and those areas were an issue for the Jayhawks in their blowout loss to Temple last week. On Monday afternoon, Self addressed that and other issues facing KU, as it prepares to play Kent State on ...
Podcast episode
Speaking with reporters Monday afternoon, Kansas University junior forward Jamari Traylor says practices since the Jayhawks' blowout loss at Temple last week have been a lot more intense and focused.
Podcast episode
Kansas University sophomore guard Wayne Selden Jr. talks with the media Monday afternoon at Allen Fieldhouse, and describes the Jayhawks' 25-point, pre-Christmas loss to Temple a "wake-up call."
Kansas basketball coach Bill Self — who has used the words terrible, pitiful and horrific to describe the Jayhawks' 25-point loss to Temple eight days ago — has resisted any temptation to overreact to his squad's pre-Christmas flop in Philadelphia.
"What are we, No. 2 in the RPI? And we've played a great schedule," Self said Monday in advance of Tuesday's 7 p.m. home battle against Kent State. "So it's not like it's totally busted, but the last game was broke, without question, and I think that it isn't as much what we do as having the passion and the energy."
Looking at the bright side, the No. 13-ranked Jayhawks (9-2) indeed take a sparkling No. 2 NCAA/RPI rating into today's game, while KSU (8-3) of the Mid-American Conference enters at No. 135 in the RPI.
"The thing that bothers me as much as anything, they (Owls) were no bigger than we were, and they blocked eight shots. We blocked two," Self said. "I mean, there wasn't that activity to go make a play athletically, and so that's something that I think that we can do."
"I don't know if you know this … Jim Harbaugh, his name has been in the press the last couple days, but he spoke to our team last year, and he gave a great statement: 'Energy always finds the ball.'
"Energy finds a way to cover up mistakes, and that's what we didn't do against Temple. Now, we are talking about one game. You can go back to Florida, Michigan State, Utah, Georgetown (KU victories), you don't play well, but energy can make up for some things, and that's what I think that we didn't have the other day. We played like a bunch of duds, and then they were really good."
Self has praised the energy level of sophomore point guard Frank Mason III, who played all 40 minutes versus Temple.
"That was just a statement to my other guys, the difference I thought in his play and everybody else's play. I could have taken him out, but I would rather leave him in and take the other guys out," Self said. "That won't happen again where he plays 40.
"I think Wayne (Selden, combo guard) is going to have to play the point. I think we have to play Wayne and Frank less minutes together, so that way Wayne can replace Frank and hopefully Devonté (Graham), we can get some positive news on Devonté (sprained right big toe) in the next week or so that may allow him to get back in there at some point in time in the near future."
Freshman point guard Graham will be re-examined this week, Self said, while stressing, "Nobody should anticipate him playing the next couple weeks. That's not going to happen."
Meanwhile, Selden is up for playing some minutes at point and helping Self achieve a goal of playing faster.
"Get up the floor," Selden, a former high school point guard, said, asked what the team can do to move the ball effectively. "Anybody can bring it up. Nobody has to wait for the point guard to bring it up. Our 1-through-4 can usually always dribble. That's the biggest thing with us."
Noted junior forward Jamari Traylor: "I get a rebound and bring it up sometimes (at recent practices). Perry (Ellis) gets a rebound and brings it up sometimes. We're working on running a little bit more. Maybe we can get a lot more easy baskets."
The Jayhawks say they've been working excessively hard at practice in the wake of the Temple setback.
"They have been ramped up a little bit more. When you are winning games, you tend to lose focus and become complacent, and we got complacent," Selden said.
Of the younger players' reactions to the loss, Traylor said: "We came out after that and told the guys, 'Look, we are just going to forget it. We're going to scratch that. We all know we've got to do better, so let's change it and not make it a habit, move onto the next game.' We take pride in ourselves. It's tough to lose like that. I know everybody is competitive on this team."
Cliff's bumps, bruises: Self said freshman forward Cliff Alexander has been bothered by a bone bruise on his shin and a sprained ankle.
"I don't think he's been active at all, and I think a lot of it's health-related," Self said, noting Alexander has not been limited in practice. "I don't think he's quite 100 percent, and of course when you're not, you don't feel as good, and you usually don't play as active."
Das boot: Graham continues to wear a boot on his right foot. "He can't do anything. He can't even ride a bike. He's basically on the same workout plan that I'm on right now," Self cracked. "But he can't really do anything until the doctors look at him again."
About the foe: Kent State (8-3) is led by sophomore forward Jimmy Hall, who averages 13.7 points and 7.6 rebounds per game. Senior guard Devereaux Manley averages 11.7 ppg and senior guard Derek Jackson 10.1 ppg. The Golden Flashes, who have lost to Yale, Loyola of Chicago and UTEP, have made 7.5 three-point baskets a game. Coach Rob Senderoff is 64-43 in four seasons. KU won the only meeting between the teams, 87-60, on Dec. 1, 2008, in Allen. KU is 11-1 against current membership of the MAC.
Stress tests: Self was asked if he's feeling more stress this season than past years at KU.
"Yes, I think I've got to do a lot better. I would say that my stress level has probably been a little higher this year," he said. "But it's really not fair to the kids. It's really my problem more than theirs, because last year we had stress level, but you had the No. 1 pick and the No. 3 pick in the draft that were part of your problems. Think about it: Part of your problems was the first (Andrew Wiggins) and third pick (Joel Embiid); those are pretty good problems.
"We don't have that this year. I need to obviously enjoy the process and not worry about what the expectations are of our team, because the whole deal is, when you're picked to be this or that — I've never understood this from a media standpoint or from a poll standpoint. When you're preseason predicted to be something, is that where you should be at that moment, or is that where you should finish? And the whole deal is from the process try to get just a little bit better each and every day. When we do that, we'll have a chance to live up or be what we think we could have been or what other people thought we could be. But based on today, not close, and that's not their fault. That's just us being a product of being very young and us having to go through some pains. If we'd have played a different schedule, I don't think that we would probably be having this conversation. But I also don't think it could have exposed us where we would be prepared for the league, either, which is far more important than nonconference."