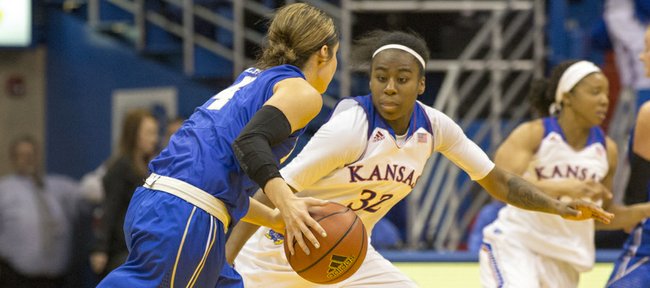 One of the Kansas University women's basketball team's youngest and most talented prospects will no longer be able to play for the Jayhawks.
KU coach Bonnie Henrickson announced Monday that sophomore guard Keyla Morgan has been medically disqualified because of an undisclosed medical condition that KU officials said was non-life threatening but would keep her away from competition.
"Keyla will remain a part of our program," Henrickson in a release. "Basketball has been a part of her life for some time, so we will obviously continue to support her during this adjustment. The most important thing for Keyla is for her to continue to work towards and receive her degree from Kansas."
Morgan, a native of Rancho Dominguez, California, has sat out the last five games and will not be dressed for tonight's game at Creighton. Prior to that, Morgan appeared in six games and averaged 18 minutes, 4.2 points and 2.8 rebounds per game.
Last season, as a true freshman, the 5-foot-8 Morgan played a significant role and even worked her way into a starting role late in the season. She started 10 of the 15 games she played in and averaged 17.3 minutes, 5.2 points and 2.1 rebounds per game while shooting 47.1 percent from three-point range.
More like this story on KUsports.com